A Tale of Two Cities: It Was the Best of Books, It Was the Worst of Books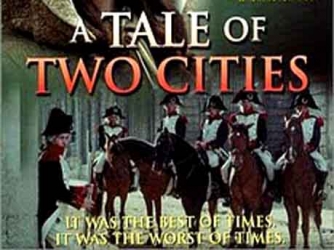 Rubani Virk, Co-Managing Editor (10)
March 23, 2012 • 633 views
Hang on for a minute...we're trying to find some more stories you might like.
A Tale of Two Cities by Charles Dickens is an indefinitely dragged on novel with a high amount of predictability. Written during the Victorian Era and based on the French Revolution, the novel consists of terror, fear, and a triangular love story. The three hundred sixty-four page book requires patience to complete.
Book the First, "Recalled to Life' especially took patience as it consisted of never-ending and lengthy descriptions. Dickens' choice of extending his descriptions to an unbelievable extent can be explained and justified by the fact that at the time that he wrote this novel, he was paid by the word. It originally came out in distinct parts, similar to a television series which explains the suspense experienced throughout. However, there was a massive amount of the book that was easily predictable very early in the novel.
Although the book contained dull sections, A Tale of Two Cities had one of the most interesting characters who sought a dangerous amount of revenge—Madame Defarge. Her behaviors defied the stereotype-based roles of men and women. Her aggressiveness surpassed that of her husband, Monseiur Defarge. The only thing Madame Defarge was concerned with was revenge which meant killing the entire family of the Marquis Evremonde's. The book, like the French Revolution itself, contained blood, gore and massive beheadings by the dreadful guillotine. A Tale of Two Cities also included injustice, sacrifice, and love.
The most dynamic character, Sydney Carton, magnificently changed from being a despondent and hopeless insolent to being a sacrificial hero. His love for the light of his life, Lucie Manette, caused him to view her as an aspiration to improve his lifestyle drastically. Lucie acted as a bright ray of hope that compelled Carton to not only realize his faults, but also desire to improve. He was the most beautiful character of Dickens' novel despite his lack of self- esteem and confidence prior to his encounters with Lucie. During those encounters, as Carton began to understand her uplifting, caring personality he realized what his life could have been like if he had made better choices earlier in his life. However, he feels that Lucie deserves a more worthy man than himself, therefore he vows to her that he would gladly sacrifice himself for her or someone she loves and he certainly does just that later in the novel when Lucie's husband Charles Darnay became a victim of the French Revolution. At that time, his crafty techniques aided him in switching places with Darnay in the prison and Carton calmly sacrificed his life for his love, Lucie.
I feel ambivalent about A Tale of Two Cities. Despite having its repetitive weariness, A Tale of Two Cities was well thought out with clever foreshadowing and an interesting plot. Charles Dickens did an excellent job of developing the characters, the suspense, and the plot using various literary devices such as symbolism and subtleties.