Scrap Meat + Pink Slime = A Happy Meal?
Hang on for a minute...we're trying to find some more stories you might like.
  McDonald's is finally retiring the well-known "pink slime" commonly found in its meat products.  On January 31, McDonald's claimed to the media that they were going to stop using the "pink-slime" process to kill bacteria in their inedible scrap meat called "beef-trimmings" to make their hamburger patties. 
  So what is "pink slime"? Pink slime is a nickname used to describe the gooey and slimy chemical known as ammonium hydroxide, an antimicrobial used in food processing. Ammonium hydroxide is used because places such as McDonald's need a strong antimicrobial that can kill bacteria such as E. coli bacteria and salmonella in their scrap meat. Ammonium hydroxide is a commonly used chemical in Burger King and Taco Bell, several national chain restaurants, and even school cafeterias.
  This chemical is classified by the Food and Drug Administration as a safe chemical to use in food processing. However, the terrifying part about this is that this chemical is not required to be labeled on meat packaging by the USDA (United States Department of Agriculture). This is upsetting to the public because the customer cannot know how his or her meat was treated and under what conditions. Finally, what is really upsetting is that 70% ofAmerica's ground beef contains leftover cow body parts that are mixed in.
  An interesting fact about ammonium hydroxide is that it is not only used to cure scrap meat, but it is used in fertilizers, household cleaners, in furniture stain, and even to make homemade bombs or explosives. One fact about ammonium hydroxide that makes this chemical used in food processing scary is that ammonium hydroxide can actually burn your skin if you contact it externally. If this chemical can burn your skin, then imagine what it can actually do to the inside of your body.
   However, McDonalds did not specify on the reason why they were going to stop using this pink goo to treat their hamburger meat. They claimed their decision was not made upon the fierce campaign by celebrity chef Jamie Oliver who protested against the use of ammonium hydroxide when curing chicken and meat.
  Their only comment towards this decision was made by the McDonald's Director of Quality Systems, Todd Bacon, "At the beginning of 2011, we made a decision to discontinue the use of ammonia-treated beef in our hamburgers. This product has been out of our supply chain since August of last year. This decision was a result of our efforts to align our global standards for how we source beef around the world."
  An ironic comment that was also made by McDonald's previously was, "We are always reviewing and evolving our standards to ensure we continue to serve safe, high quality food to our customers."
  If you are interested and upset with this type of meat processing, you can find more information in the book Fast Food Nation and on Jamie Oliver's T.V. show Food Revolution.  The "pink slime" premiered during his new season inLos Angeles on April 11, 2011.

About the Writer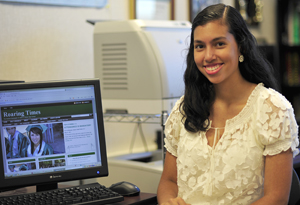 Viviana Fuentes, Senior Staff Writer (11)
Before the world knew me, my mom had already decided that my name was going to be Viviana Fuentes. I was named after her great-great grandmother, Viviana...