Pitman's Green Week Is Back In Action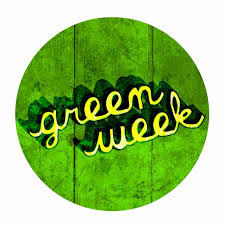 Hang on for a minute...we're trying to find some more stories you might like.
Pitman high is back in the swing of things as they commence their annual school wide green week starting on Monday, March twentieth.
Pitman's green week is a time for students to learn about the environment and give back to the earth. Not only to the but to each other as they cooperate in actions to maintain our beautiful campus.
An activity done by the Varsity baseball team took place on March fifteenth, where redwoods trees were planted behind the outfield fence to enhance the aesthetic features of the campus. Not only will the trees enhance the physical features of the school but provide shade and shelter for many Pitman athletes. In about a decade's time, now adults, will be able to come back and look at these prospering plants and be able to say, "I planted that!"
Bradley Enos says, "planting these redwoods is a great opportunity to give back. It's all gonna pay off when I watch my kids hit dingers into these trees twenty or thirty years from now."
Today Pitman held their annual Picnic on the Green where students watch students perform at the amphitheater in the quad and enjoy their lunch. This is a great way for students to enjoy the great spring weather and get to know fellow students.
Everyday day of the week beings a different for phs scholars including a sunk tank with teaching favorites among Pitman faculty. Sumo suit wrestling and jousting also make up a few other activities out in the quad during Green Week.
Pitman golf ace Drew Fusi states, "I love Green Week. It's a great way to recruit for the upcoming golf team. With Mr. Jeans letting students hit wiffle balls into hula hoops to see what they can offer the firing squad."
PHS senior Brandon Pacheco says, "I love picnic on the green. It's beautiful outside and it's just a great experience overall. I feel bad for those spending the day inside."
Pitman Green Week is a great way to get to know yourself as well. With all the available activities, you are bound to find something that intrigues you.
There you have it Pitman! Go out and enjoy the day or meet new people. Green Week is what you make it. Don't be a desk ridden slouch next week, go out and have fun.
And most importantly Pitman, be yourself.