An Insight Into Captain Marvel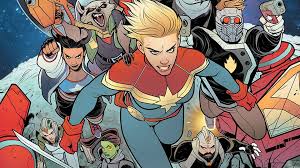 Hang on for a minute...we're trying to find some more stories you might like.
Following the shocking ending to Avengers: Infinity War, many interesting questions were brought up. One of them may be: Where does Captain Marvel play a role in the upcoming Avengers film? Captain Marvel is set to debut in the Marvel Cinematic Universe next year, when Avengers 4 will be released.
For those of you who may not know, Captain Marvel, also known as Carol Danvers, is a fictional superhero that first appeared in Marvel comics in 1968. She first appeared under the name of Ms Marvel, before assuming the mantle of Captain Marvel in 2012.
Carol Danvers was an officer of the United States Air Force. Following an explosion involving a Kree device, Danvers had her DNA fused with Mar-Vell, resulting in her gaining superhuman abilities.
Since 2013, a film based on Carol Danvers has been in production. In 2016, actress Brie Larson's casting as Carol Danvers was announced at San Diego Comic-Con International. In addition to Larson, the main cast features Samuel L. Jackson, Ben Mendelsohn, Djimon Hounsou, Lee Pace, Clark Gregg, and Jude Law. Samuel L. Jackson will reprise his role as Nick Fury, as well as Lee Pace reprising his role as Ronan the Accuser, the main villain in Guardians of the Galaxy.
Set to be released on March 8, 2019, this will be the 21st installment in the Marvel Cinematic Universe. The film will differentiate from most other Marvel films, as it will take place in the 90s.
According to Marvel Studios President, Kevin Feige, this film will explore a period in Nick Fury's life in which he is without his iconic eyepatch and is not aware the superheroes exist. Following the events of Captain Marvel, Nick Fury is set on the path that turns him into the character that he is known as today.
This film will be instrumental to Marvel, as they are attempting to follow in the footsteps of last year's Wonder Woman film that was both critically and commercially successful. Marvel is also looking to follow up on the cultural phenomenon that Black Panther was earlier this year.