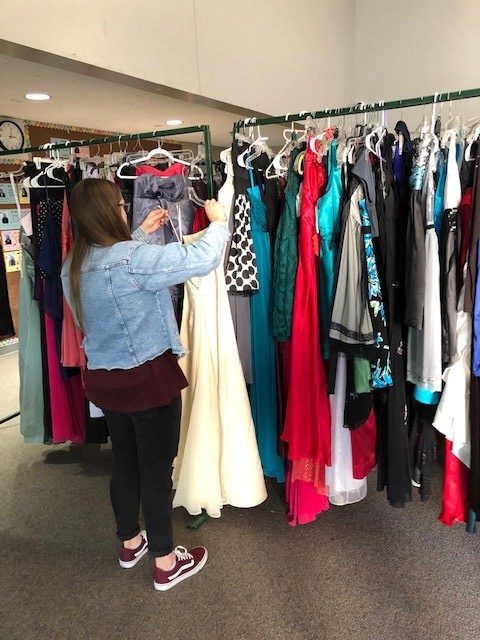 Empowerment Club is very excited to announce this year's dress drive. They are all about spreading positivity and confidence to all the students on campus and making sure that everyone feels as amazing as they truly are. 
This is the second year Pitman has participated in this wonderful event to make sure every girl has the chance to look and feel her best. Last year, dresses were donated for all the ladies going to Prom, but this year Empowerment Club got a head start for all the girls attending the Winter Formal. 
The Empowerment Club put a lot of time and thought into this event. Club member, Mikayla Hatchell, stated  "Me and the president at first spent a couple of hours at Panera and we planned out how to do this. Through a couple of club meetings we distributed the work. It was last Wednesday, November 20th, that we picked up the dresses. That took about an hour and then today we are putting in a few more hours."
The dress drive took place in the black box theatre on November 22nd. Every single dress was free for those who were looking to make their special night a memorable one. There were over 200 dresses donated, so there was plenty to choose from. All the dresses that weren't picked are put away for the next dress drive to come.
Many people took time out of their busy schedules to donate all the dresses they could. Empowerment Club advisor, Ms. Silva accepted donations in her classroom. Not only did people donate their dresses, but they also donated their time to help out with this wonderful event. 
The volunteers helped organize all the dresses. They also set up mirrors for the ladies to model the dress and make sure it suits them and their style. 
This was a great event for those who couldn't afford to buy a brand new dress. Sometimes school can get expensive, especially for seniors, so this event saved students a lot of money. Every girl deserves to have a perfect special night after working hard all semester. 
Overall I would say this was a very successful event. Most of the ladies who attended walked out with a dress. I look forward to the next dress drive during the formal and prom seasons.