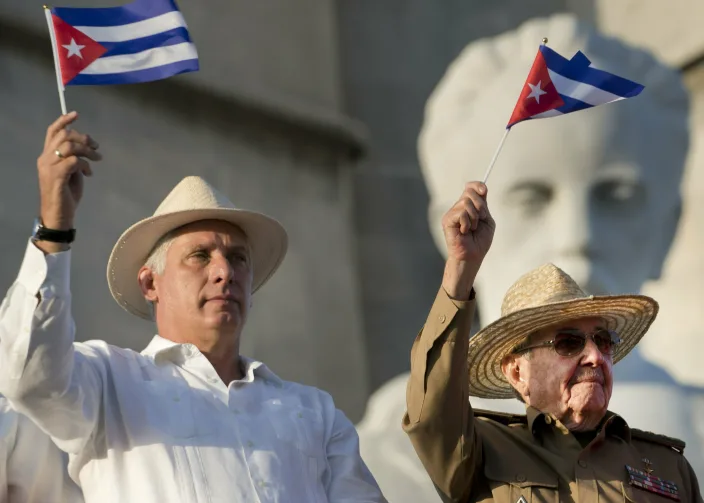 Castro, a last name people are very familiar with. Some may think a crazy military dictator guy or a horrible person that should've been dead. Whatever you think of Fidel or Raul Castro it doesn't matter you know of him somehow. Fidel Castro and his brother Raul were two of the most influential people in Cuba in the 1950's. They had started a revolution Civil War. The Castro's failed many times, sometimes even got captured and locked up but by 1959 Fidel Castro had taken over Cuba and became their  next leader and where he would stay in that spot for decades to come. You see one of the Castro's have always been at the head of power on the island. But recently has broken the news that Raul Castro, the brother of the deceased Fidel Castro, has stepped down from the head of the Cuban Communist Party. With a BIG change in government for Cuban citizens what can they expect from here on out. They had Fidel Castro from about 1959 to 2008 leading them and since that Raul Castro being the president from 2008-2018. And since he stepped down from the President title, it has been Miguel Díaz-Canel, who Is also the next leader of the Cuban Communist Party. So since we are all familiar with Fidel and Raul let´s talk about Mr. Miguel. 
Born in April of 1960 a little over a year of Fidel taking power, Miguel Mario Díaz-Canel Bermúdez was a good kid being raised in the newly governed Cuba. He studied Electronic Engineering in college at University "Marta Abreu" of Las Villas. He graduated from college in 1982 and went to do his obligatory 3 years of military service. After being discharged he went straight to politics. In 1987 Canel became a member of the Young Communists Union. He moved through the ranks and was at one point the first party secretary in the Villa Clara Province. In 2003 he was elected to the same position in Holguín Province which was a more prosperous part of Cuba. In 2009 when he was elected Minister of Higher Education he introduced technology in classrooms across the country and was one of the first Cuban Officials to bring a laptop to meetings. All of this he was on the rise to power straight from the bottom. 
Of course he has some great accomplishments in his career but one of the biggest was in 2013 when Raul Castro had Canel become the first vice president of Cuba. And then even a bigger accomplishment was in 2018 when he became the first President of Cuba that didn't have the last name Castro since 1959.  And then just this past week it broke the news that Raul Castro would be stepping down as the head of the communist party and that Canel would be the next leader of Cuba 100%. Of course Raul will still be the most influential person in Cuba until his death but as of now President Miguel Díaz-Canel is the next leader of Cuba. And of course there will probably be little changes but for the most part it looks like this new leader has most of the same beliefs as Fidel and Raul. Once he visited Santiago De Cuba, the city where Fidel Castro´s ashes were buried, to stop at schools and made sure that the legacy of Fidel´s idea that education should be free lives on. He said once for a news paper, "If we took the oath that Fidel would always be with us… this work must become a bulwark." 
When all is said and done it looks like Cuba has a promising future in some ways but a big change indeed judging that the head and leader of Cuba is not a Castro but a somewhat of a little brother to Raul will be leading the country for now on. 
https://s.yimg.com/ny/api/res/1.2/Fh1OS1neA9n73osMs1CPYA–/YXBwaWQ9aGlnaGxhbmRlcjt3PTcwNTtoPTUwMy41ODk1NTg5NTU4OTU2O2NmPXdlYnA-/https://s.yimg.com/uu/api/res/1.2/pXlQyTu28Qdt.d9bXlhkQA–~B/aD0zOTY4O3c9NTU1NTthcHBpZD15dGFjaHlvbg–/https://media.zenfs.com/en/ap.org/0bf9f5269a7811d5c4cb79da6bb5b8dd
https://www.msn.com/en-us/news/world/a-castro-not-leading-cuba-raul-castro-steps-down-as-head-of-its-communist-party/ar-BB1fIocg?ocid=BingNews
https://www.britannica.com/biography/Miguel-Diaz-Canel
https://www.thefamouspeople.com/profiles/miguel-daz-canel-40687.php