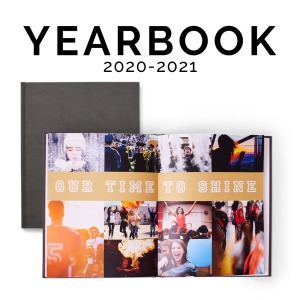 What a crazy year it has been for all students no matter what grade level.  As the TUSD elementary schools went back in the fall, secondary schools waited for their turn to have the in-person learning option.  March was finally the time to come back!  In a year where the majority of schooling took place at home for secondary schools…how is it possible to have a yearbook?
In a normal year students in the yearbook class can be seen walking all over campus each week; at all the sporting events; and also at special events documenting the amazing things going on at PHS…but with a silent campus for much of the 2020-2021 school year how can a yearbook be published?  I asked teacher and yearbook advisor Mr. Rosales some questions on how he is conquering this task:
How have you created a yearbook when most of the year was spent at home?
We used the Yearbook Google Classroom and social media to promote topics for yearbook pages. Compared to school events topics gave us a different perspective on student life outside of school.  I can say that this yearbook will be one of a kind with all the changes that we had this year.
Because of the pandemic and the secondary level being at home until March – is the yearbook much smaller than it's normal size due to the lack of events and pictures being taken?
The book will have a few less pages this year because school events did not happen throughout the year and many students were not able to take a school portrait this year.
Will any sports be included in the yearbook this year?
Since sports started having conditioning and practice events in the beginning of the school year we were able to cover most sports through their practices or first games.
When are students expected to receive their yearbook and how will they be distributed?
If all goes well, we expect to have our yearbook by the end of June. At this point we are planning on having a drive thru event.
Thank you to Mr. Rosales and all of the students and staff who submitted pictures, took pictures, and emailed pictures to help make this yearbook possible!  Be sure to check the Pitman High School website for more information:
https://www.turlock.k12.ca.us/domain/1623