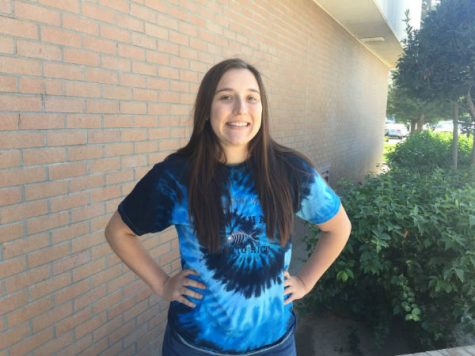 As you are reading this, I am probably at home watching Netflix or YouTube while eating chips and guac because that's what I was doing as I wrote this. My favorite things in the world aside from tv and avocados are my two cats, my baby blanket, and Starbucks. I know, these seem like the interests of any normal 16 year old girl, but I assure you, I am many things, but normal isn't one of them. Yes, I like curling my hair, doing my makeup and going shopping. But I also really like to organize things and clean, which is kind of odd. I can also put both legs behind my head and hold my breath for two whole minutes.
   My favorite hobby is scouring Netflix, the greatest gift known to man, and finding shows to binge watch. I have many recommendations and hopefully you can find them in an article that I write someday (wink wink).
   After high school, I'd like to major in Psychology and be a lifeguard on the side. Why a lifeguard you ask? Well, I previously mentioned that I can hold my breath for two minutes and I once saved my little sister from drowning in the ocean, which definitely makes me lifeguard material. Plus I could use a tan and the opportunity to work with a bunch of in shape toned people, so why not a lifeguard?
   Well, I think it's time to wrap things up and for my final words if like to share the wise words from George Bernard Shaw:
  "There is no sincerer love than the love of food."
Julia Berry (11th), Reporter
May 15, 2017

Kylie Jenner Gets Her Own Show

(Story)

Apr 07, 2017
Mar 23, 2017

4G or not 4G, That is the Question: Stricter Phone Policies at Pitman High School

(Story)

Mar 02, 2017

Keeping Up With the Kattarshians: The Purrrfect or Claw-ful Reality Show?

(Story)

Feb 15, 2017

Kylie Jenner puts the "POP" in Pop-Up Shop

(Story)

Feb 09, 2017

Trump Follows in Obama's Lead in Supporting LGBTQ: Is it a facade?

(Story)

Jan 25, 2017

"La La Land": A Surprisingly Modern Musical

(Story)

Jan 17, 2017

Passengers: a sci-fi romance gone wrong

(Story)

Nov 28, 2016

Ice Rink Skates Back Into Turlock

(Story)

Nov 08, 2016

A Twist on Classic Thanksgiving Pies

(Story)

Oct 28, 2016
Oct 14, 2016

Binge-Worthy Netflix Shows

(Story)

Sep 29, 2016

Was Jared Leto's Talent Wasted as the Joker in the Movie Suicide Squad?

(Story)