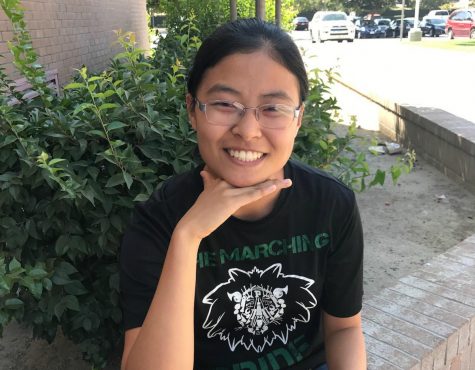 Kelly Zhang is a clueless nerd who's really good at sounding smart. Her interests consist of social sciences, people, animals, understanding how things work, writing, Youtube videos, and stories of all kinds.
Fun Fact: has crossed the entirety of the U.S. in her lifetime.
Last Place Lived: Arkansas.
Her Natural Habitat: her room, the library, the space in front of a computer, & REM sleep.
Ways to Summon Her: debate; mention Kingdom Hearts or Final Fantasy VII; play an episode of
Avatar: The Last Airbender
or
Fullmetal Alchemist: Brotherhood
; quote "My Immortal" aloud; bring a pet (
any
pet); or gather together a circle of Brandon Sanderson, Terry Pratchett, and Rick Riordan books in a dark bathroom and chant "Bad writing" thirteen times in front of the mirror.
Last But Very Much Not Least, a Quote: "'
A story doesn't live until it is imagined in someone's mind. .... It means what you want it to mean. The purpose of a storyteller is not to tell you how to think, but to give you questions to think upon. Too often, we forget that.'"
—Brandon Sanderson,
The Way of Kings
Kelly Zhang (12th), Reporter
May 17, 2018

The Great Barrier Reef May Be Saved By Gene Editing

(Story)

Apr 27, 2018

The Student Spotlight Organization Proudly Presents… Alexis Tucker!

(Story)

Mar 26, 2018

Commemorating the World, One Doodle at a Time

(Story)

Feb 01, 2018

SCMEA Honors Some of the County's Best Student Musicians

(Story)

Jan 17, 2018

The Current Flu Scare

(Story)

Nov 13, 2017

The Stances on American Health Care

(Story)

Oct 30, 2017

Jeff Denham Offering Students Volunteer Internships

(Story)

Oct 12, 2017

Turlock's Inaugural Preview of Champions

(Story)

Oct 04, 2017

The Slippery Slope of Modern Technology

(Story)

Sep 29, 2017

Oregon's Summer This Year: Hot and Filled with Smoke

(Story)

Sep 14, 2017

Best Ways to Watch a Solar Eclipse? Try Research Jets at 50,000 Feet

(Story)