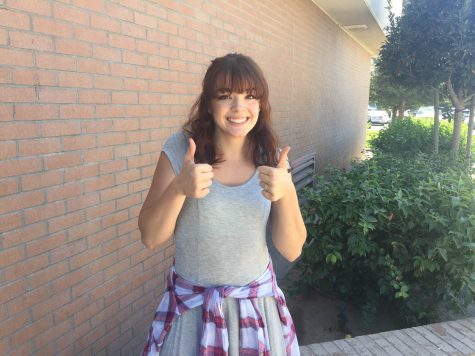 So Maya Radcliffe,



Spends way too much time on Pinterest.




Has a slightly serious addiction to coffee and dark chocolate.




Hates school presentations but loves performing in drama productions.




Is going to travel the world- assuming she can earn that much money.




Happiness is books and Girl Scout Thin Mints.




Warning: Sarcastic comments ahead.




Currently in the process of fusing the heroism of an Avenger with the graciousness of a Disney princess.




People are pretty cool but animals are better.



Maya Radcliffe (12th), Reporter
May 11, 2017

Bowling for Soup Got it Wrong, High School Really Does End

(Story)

Mar 23, 2017

There May Be Something There

(Story)

Mar 02, 2017
Feb 15, 2017

Roses Are Red, Violets are Blue, Don't Let This Happen to You

(Story)

Feb 06, 2017

The Golden City Sues the Golden-Haired Man

(Story)

Jan 25, 2017

"Hidden Figures" Unveiled

(Story)

Jan 17, 2017

The Terrible, No Good, Very Bad Year

(Story)

Nov 28, 2016

AP(eek) into High School English

(Story)

Nov 08, 2016

Don't Forget: The Children Grieve Too

(Story)

Oct 31, 2016

Less Is More: Tiny Homes Make a Big Impact

(Story)

Oct 14, 2016

Hunted to the Edge: African Elephants Slaughtered

(Story)

Sep 29, 2016

Taken Too Soon: A Glance into the Career of Christina Grimmie

(Story)