2011 Grammys Deliver Surprising Results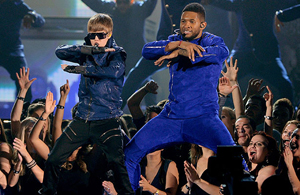 Hang on for a minute...we're trying to find some more stories you might like.
The Grammy's continuously become more and more elaborate every year and the 53rd annual Grammy's proved to be one of the best. With performances from Lady Gaga, Katy Perry, Miranda Lambert and Mumford and Son this year will be talked about for years to come.
  The show started out with a tribute to Aretha Franklin, who couldn't be at the Grammy's because she was ill. Aretha Franklin had performed at the Grammy's five times and promised to perform next year. LL Cool J introduced the tribute performance saying "Aretha Franklin is and always will be the queen of soul".
  Backed up by Detroit's Philly Danes, Christina Aguilera, Jenifer Hudson, Florence Welch, Yolanda Adams, and Martina McBride sang together for a soulful greeting to the Grammy's and a performance that would make Aretha Franklin proud. 
  The soul girls announced the first Grammy of the night, Best Pop Duo or Group, going to Train for "Hey, Soul Sister." The lead singer of the group, Pat Monahand accepted the Grammy with a little comedy thanking Justin Bieber "for not being a duo or group".
  Next up Lady Gaga emerged from a giant egg and performed her new single "Born This Way". With lyrics like "Don't hide yourself in regret just love yourself and you're set" Fans couldn't help but fall in love with the song and "Born This Way" was deemed the fastest selling song on iTunes.
  Miranda Lambert, introduced by her fiancé Blake Shelton, made her Grammy debut performing her song "The House That Built Me" and later took home Best Female Vocal Country Performance.
   Also making their Grammy debut, up next was Muse performing their hit song "Uprising" and was one of the best performances of the night. They later won Best Rock Album for "The Resistance." Bruno Mars, B.O.B. And Janelle Monae performed "Nothing On You." Next, Bruno Mars sang an early 60's mo-town version of his own song "Grenade" with a look a lot like bands such as the Four Tops. Janelle Monae blew the audience away when she sang "Cold War" and added a special touch by crowd surfing in the middle. B.O.B. added his own touch to the song by jumping between instruments while she sang.
  Justin Bieber sang an acoustic version of his song "Baby" before performing "Never Say Never" with Jaden Smith, the camera panned over to Will Smith after their performance cheering for his son saying "that's my boy!" Usher and Justin Bieber sang Ushers song "O.M.G." next and they stole the stage with their similar dancing.
  The next Grammy of the night went to Lady Gaga and "Fame Monster" for Best Pop Vocal Album. She was very surprised to have one up against nominees such as Justin Bieber and Katy Perry and in her acceptance speech she especially gave thanks to her fans. She had changed costumes for the third time that night into what looked like a gorilla/Batman costume.
  David Letterman's Late Night Show "Top Ten Grammy Surprises" poked fun at the Grammy's with "surprises" such as number six, "The new category: best male or female traditional, R&B, urban/alternative, non-classical Latin, pop performance by a duo or group with vocals" Providing a comic relief for the audience.
  Mumford and Son  had an outstanding perform that made everyone fall in love with them with their song "The Cave" and were followed by The Avett Brothers performed "Head Full of Doubt, Road Full of Promise" with a fast beat and intense sound they are sure to be a hit. Bob Dylan, even after years of smoking and age, still has his voice. He performed "Maggie's Farm" with a shaking start but soon got back into the swing we are all used to. When the two bands and Dylan performed together their folk/rock sound fills a room with cheer.
  Lady Antebellum took home four Grammy's this year so it was no surprise that they performed their hit song "Need You Now". With powerful vocals the group dominates the stage. This year the Grammy's the group won are, Best Country Album, Song of the Year, Record of the Year.
  Gweneth Paltrow and Cee Lo Green sang "F*** You" (or forget you) together in a Sesame Street fashion with puppets and other characters. Since her movie "Country Strong" Gweneth Paltrow has continued singing but her choice of song with Cee Lo Green in my opinion was not the best song choice.
  Swinging above the stage with elaborate angel wings trailing to the floor Katy Perry descended singing her new song "Not Like In the Movies" with Russell Brand and her wedding video playing in the background.  When she reached the stage below her the song changed to a Valentine's Day version of "Teenage Dream" dressed in a dress covered in hearts.
  Even though he rarely makes appearances at the Grammy's, Eminem not only performed "Love the way you Lie" with Rihanna but he took a Grammy home for The Best Rap. Their performance together proved that Eminem still has his talented rhythm and voice and when his name was called for the Grammy shock covered his face and he quickly took to the stage for his acceptance speech.
  The next Grammy of the night went to Esperanza Spalding for Best New Artist, with competition like Florence and the Machine, Mumford and Son and Justin Bieber she was genuinely shocked!
  After Matthew Morrison and Neil Portal talked briefly about The Academy and the Grammy's they showed the audience a video of all the musical losses this year such as, Jimmy Dean, Bobby Charles and Margaret Whiting  with an introduction to Barbara Streisand who sang her hit song from the 1970's, "Evergreen"
  Rihanna and Drake performed "What's My Name" with a jungle setting and Rihanna showed Lady Gaga some competition as far as costumes. And for the last Grammy of the night Barbara Streisand returned to the stage to award the Album of the Year, and with competition such as Katy Perry's "Teenage Dream" and Lady Gaga's "The Fame Monster" the audience was shocked but pleased when "The Suburbs" by Arcade Fire took the win, and because they "love to play music" they took to the stage to perform one last time as the audience started to exit.