Trump Reversing Transgender Bathroom Policy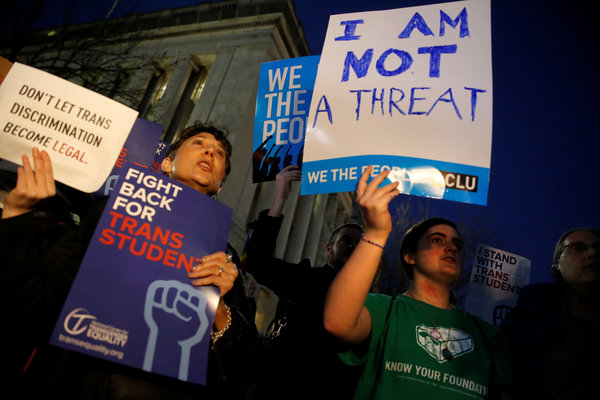 Shortly after the third week mark of his Presidency, Donald Trump and his administration have begun reversions on Obama's Transgender bathroom policy, which allows students to use the restroom that corresponds with their gender identity, igniting a new flurry of protests as well as vigorous support from those who were in opposition of the policy.
In May of last year, in the midst of Obama's last year as President of the U.S, he directed schools and school boards to be open to the idea of giving transgender students the right to use the restroom that corresponds with their identity, claiming that it is backed up by Title IX.
Title IX reads, "No person in the United States, shall, on the basis of sex, be excluded from participation in, be denied the benefits of, or be subjected to discrimination under any education program or activity receiving Federal financial assistance." Obama administration claimed that if school did not provide students with the usage of restrooms of choice, than they could be in violation of this, and risk funding, saying that "sex" also includes gender identity.
Trump and his administration are not in support of the usage of title IX, declaring that Obama's interpretation does not "contain extensive legal analysis or explain how the position is consistent with the express language of Title IX, nor did they undergo any formal public process. This interpretation has given rise to significant litigation regarding school restrooms and locker rooms."
Not everyone involved in politics is a fan of the drastic change, newly elected Head of Education Betsy DeVos went into a speech about her distaste for the reversal, saying " We have a responsibility to protect every student in America and ensure that they have the freedom to learn and thrive in a safe and trusted environment. This is not merely a federal mandate, but a moral obligation no individual, school, district or state can abdicate. At my direction, the Department's Office for Civil Rights remains committed to investigating all claims of discrimination, bullying and harassment against those who are most vulnerable in our schools. I have dedicated my career to advocating for and fighting on behalf of students, and as Secretary of Education, I consider protecting all students, including LGBTQ students, not only a key priority for the Department, but for every school in America."
Although Trump's reversal is not a complete step back from allowing transgender students to use the restroom of their identity, it will affect the way schools and school boards view transgender students and how they should treat them.