Mexico Is Shaking With Fear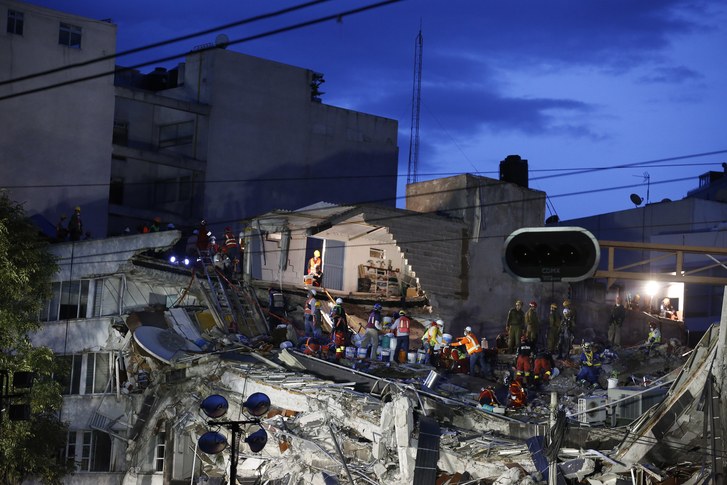 Recently, Mexico has had two big earthquakes. The first had a magnitude of 8.1, and the second had a magnitude of 7.1. These earthquakes have caused a major impact on Mexico and its people. Everyday, the news brings more and more devastating news about what is happening in Mexico, and the rise of the death toll.
The first earthquake occurred on September 8th . With a magnitude of 8.1, the earthquake brought great damage to Southern Mexico, killing dozens. It was recorded to be the strongest earthquake in centuries. "Overall, the earthquake- the most powerful to hit the country in a century," stated by Paulina Villegas in her article posted on the New York Times: "Mexico Earthquake, Strongest in a Century, Kills Dozen".
On September 19th, a second earthquake occurred, at a magnitude of 7.1, in Mexico City; adding more damage to the cities. Schools and buildings collapsed, many were inside the buildings when it occurred. According to the news, the death toll reached 250. Quite sad, isn't it?
Luckily, survivors were found under the rubble of the buildings. On September 21st, it was announced that a 12 year old girl may have survived after a school collapsed. The girl has yet to be found. Max Jaeger from the nypost wrote, "… a 12 year old girl who was reportedly discovered alive and who had been pinned beneath the rubble more than 48 hours since the earthquake."  It was claimed 19 were dead and 11 were hospitalized from the school.  The search for the girl continues.
Damage is still being dealt with in Mexico. Either more people are being found alive or dead. As said, the news have been keeping up daily with the events that are happening in Mexico. Sadly, more unfortunate news is delivered more than happy news. The people in Mexico are trying not to lose hope. With the crazy events happening around the world, hope is becoming hard to hold on to but it is what we need because who knows what next natural disaster will occur?
On September 23rd 2017, another earthquake erupted at a magnitude of 6.1. Bringing more damage than ever. The NY post states, "Mexico's Oaxaca region was shaken by a 6.1 – magnitude earthquake Saturday that downed a highway bridge, damaged homes and buildings, and rattled people as far away as Mexico City." The earthquakes just keep coming.