Oregon's Summer This Year: Hot and Filled with Smoke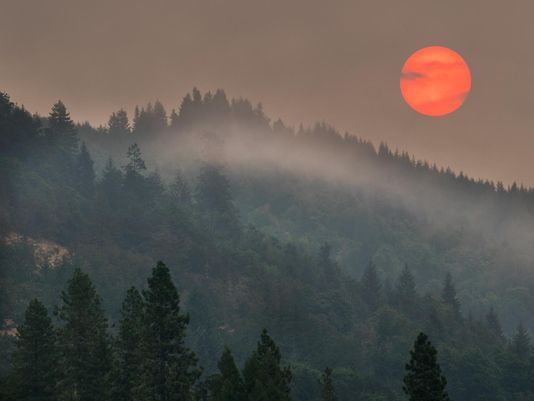 For the Pacific Northwest, this year's weather has been nice and dry—too dry.
This summer, Seattle only received 0.02 inches of rain, tied as the driest summer period on record with 1914. This year also holds the newest record in the city for the most consecutive days without rain: 55 days, from June 18 to August 11. Portland has been even drier, going a total of 57 days straight without rain from June 17 to August 12.
Due to this interstate-wide hot and arid weather, Washington and Oregon forests have been in perfect condition for a single spark or lightning bolt to turn into a massive wildfire, and both have been suffering this year under clouds of smoke. Especially Oregon, whose conflagrations have sent around 678,000 acres of land up in flames as of September 19, nearly 200,000 acres more than the average year.
Most famously so far is the Eagle Creek Fire, started by a group of teenagers throwing fireworks in the Columbia River Gorge and smothering Portland citizens in ash for days. It's currently 46% contained by Oregon's firefighters and still burning—though it hardly compares to the Chetco Bar Fire, blazing since mid-July and consuming over a sixth of the burned acreage this year.
"Timber used to be the biggest asset this state has," said state senator Fred Girod. "Now it's become a liability. The forest is just prone to go up in smoke."
Luckily, the arrival of autumn and its accompanying cooler, wetter weather has brought down fires to smoulders, including the Chetco Bar Fire, and helped Oregon firefighters gain ground against them. Many evacuation orders were able to be lifted across the state, allowing people to return home or be set at ease now that the flames are in no expected danger of reaching their area.
Oregon still has yet to be in the clear, however. Smouldering fires still carry the risky potential of flaring up again. And according to Jim Gersbach, a spokesman for the Oregon Department of Forestry, the state's fire season has yet to really reach its end.
"Usually we need quite a period of soaking rain to feel we can declare the fire season over," said Gersbach.
For Oregon citizens, this forthcoming rain may be within sight, since fire season normally ends at around mid-October. For now, the Oregon Department of Forestry will still be hard at work containing flames, and with luck, the cinders will stay just that—cinders.