Jazz Band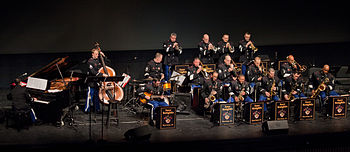 Hang on for a minute...we're trying to find some more stories you might like.
Pitman High School held their first Jazz concert for this 2017/18 school year in the Black Box Theater on December 4, 2017. The Jazz class began the evening with an outstanding performance. On the night of the performance Pitman was also merged with other individuals from Dutcher.
Mr. Modesto is a very hardworking and passionate teacher at Pitman High School. He has been working as a music teacher at Pitman since ´05. He lead the jazz band on a spontaneous performance that blew us away.
Mr. Modesto hopes to motivates his students as a teacher/ and musician is "By making them aware of what is possible. Also by giving them that feeling of being able to perform at a higher level and let them have that taste of success." he expressed.
Being in a Jazz Band can have many obstacles during the way. They have overcome some very big challenges as they grow and get better.
Pitman High's Jazz band will be in the schools Pop Concert. It would be a delight if students, teachers, administration, and close family or friends would come support. There will also be a jazz festival in the spring. Mark your calendars ladies and gentlemen!
To get an insight on how they felt we cast an interview with one of the Jazz students. Stefon is a freshman at Pitman high and has been in the music industry since his fifth grade year with a year pause in between.
"I really like being in the Jazz band. I also really enjoy playing and overall being part of an ensemble and having something to look forward too."
The Louis Armstrong award is like an MVP award given to a fellow student musician in Jazz. Stefon had the honor to receive one during his junior high year. His goal for his high school year is to be able to receive it again and is currently working hard to achieve his goal.