Bring On The Scarves!: Pitman's Third World Hijab Day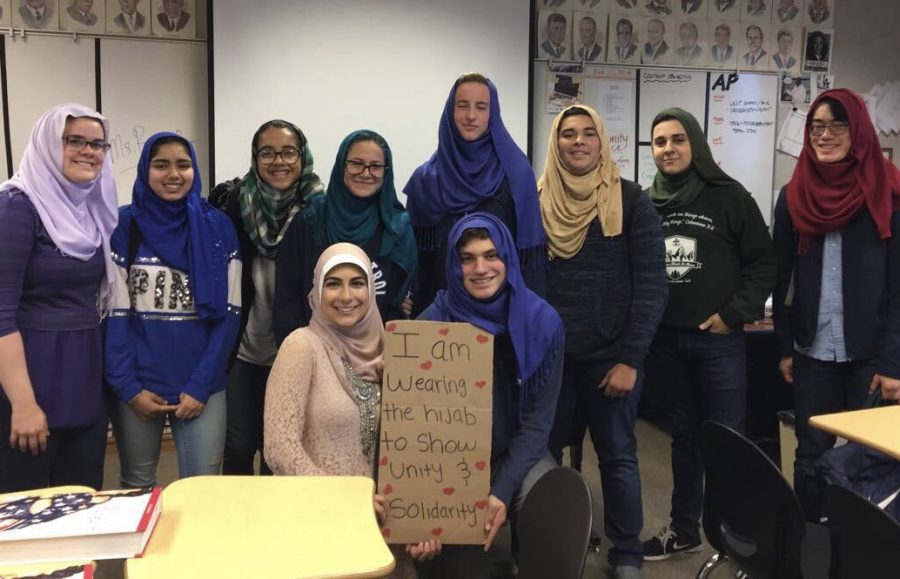 Colorful scarves everywhere, millions of pictures being taken, lots of hugs shared- these are just a few expected things from World Hijab Day here at Pitman.
Tons of students gathered together on the morning of February 1, 2018, to have hijabs intricately tied around their faces and to just have a great time throughout the day.
World Hijab Day is a campus-wide day of awareness of minorities at Pitman and an attempt to get into the shoes of those women that wear hijabs every single day of their lives. The event is spearheaded by Pitman's very own Muslim Student Alliance Club, better known as MSA.
The president of MSA, Noor El Nou-Nou, is a big lover of World Hijab Day. A junior here at Pitman, she participates in many organizations on campus and looks forward World Hijab Day every year.
"When I saw the event, I hosted it from my freshman to junior year," El Nou-Nou commented, "and I love the message it was sending of unity and solidarity- that's what World Hijab Day is for. And, when I saw that message, I thought of Pitman High School because there are so many amazing people here that I knew would be willing to participate."
This day is a great opportunity for Pitman students to delve more into the many diverse cultures around them. World Hijab day helps students here better understand the purpose of the hijab and the religious meanings behind it. People have more of an opportunity on this day to learn why some women at our school wear their hijabs- whether it be cultural reasons, religious reasons, or just for fun.
El Nou-Nou went on to state, "I feel like students' participation made other people think twice about how important equality is everyone else. I feel like the administration also maybe thought that… World Hijab Day is showing them how good Pitman High students really are and how we shouldn't underestimate who people are."
World Hijab Day was a huge success this year and The Roaring Times looks forward to the years of this event to come. Through this one day of simply wearing a hijab, students here at Pitman are able to open themselves up to new ideas and beliefs and are able to see the world around them as a beautiful place full of individuals who make their own choices about their own appearances. This is a great day because instead of hate, Pitman students who wear hijabs receive love and support from their peers. Bottom line: we need more days like this.
A final quote from Noor El Nou-Nou: "I saw the school unify because it doesn't matter who you are or what you are- it doesn't matter what color your skin is, nothing like that really matters. I saw so many different types of people- boys and girls, anyone, anything- we just all came together and we were really supportive of one another… I just felt like everyone came together like a big, supportive family."