Camila Cabello's First Solo Album: Camila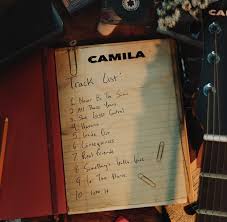 Hang on for a minute...we're trying to find some more stories you might like.
On January 12th, 2018, newly solo artist Camila Cabello released her debut album, CAMILA. To say it is amazing is an understatement. However, there are quite a few milestones in her career that led her to making her own album.
Before Camila's departure from Fifth Harmony, she hinted to fans about her upcoming solo career by releasing a few songs on her own. Her first song, "I Know What You Did Last Summer", featured Shawn Mendes, and it was a huge success. (This song is what prompted the singers' fans to "ship" the two, but they continue to claim to only be good friends.)
Her next solo song was "Bad Things", featuring Machine Gun Kelly, and it was also a hit. This song helped Camila get her name out in the world, without it being tied to the girl group, Fifth Harmony. This song ended up on the Billboard 100, as well as multiple other music-related listings.
In her following music release, she was featured on a track with Cashmere Cat called "Love Incredible". Although this song did not get as much publicity as her previous releases, it was still a popular song amongst her fans and could be described as "fun and spunky".
Before she released her first album, CAMILA, she released her hit song "Crying in the Club". This song is what really helped people recognize her as a solo artist. She received multiple awards and recognitions for the song. She expressed that the song meant a lot to her, and it helped her overcome multiple different obstacles.
Originally, her album was intended to be called "The Hurting, The Healing, The Loving.", to symbolize her journey and the hardships that came along with it. A few months prior to the release, she decided against it. In an interview with Genius, Camila said, "It would just bring me back to the hurt". She did not want to go back to that place, so she informed her fans that her debut album would simply be called Camila.
Before the official album release, Camila leaked two of the eleven songs to her eager fans, called "Never Be the Same" and "Real Friends". Both were highly rated, and they gave the fans a taste of what was yet to come.
The full album was finally released on the twelfth of January, and it was definitely worth the wait. Camila used the hurt of the past and the joy of the future to write each song, and it showed. Fans can hardly wait to see Camila continue to evolve as a solo artist, as well as a person.