Grey's Anatomy Brings Attention to Domestic Violence in Emotional Episode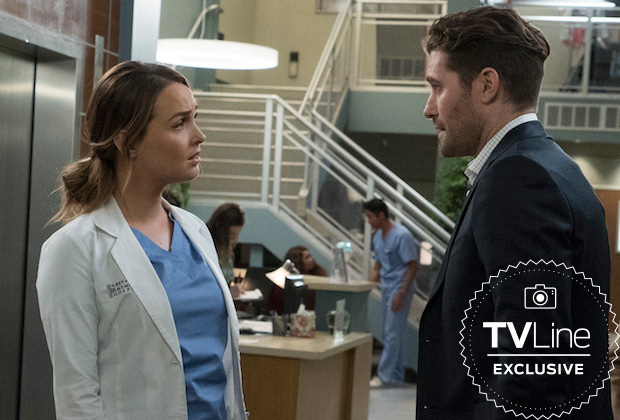 Over the years, medical drama Grey's Anatomy has dealt with a variety of serious and realistic problems –  ranging from gun violence to death and most recently, domestic abuse in the episode titled, 1-800-799-7233, which is the actual number for the National Domestic Abuse Hotline. Even though the number was never dialed within the episode, the significance still stands out exceptionally.
Before the winter finale, the audience was left with several cliffhangers: Maggie Pierce (Kelly McCreary) and Jackson Avery (Jesse Williams) come dangerously close to losing a patient due to helicopter turbulence, Miranda Bailey (Chandra Wilson) is trying to control the hospital under a cyber attack, Alex Karev (Justin Chambers) could possibly be giving his pediatric patient a poisonous medication, Meredith Grey (Ellen Pompeo) is having to hook intern Levi Schmitt "Glasses" (Jake Borelli) up to an IV in order to transfer blood from him to her patient and Jo Wilson (Camilla Luddington) has just ran into the abusive husband who belittled and abused her for years – causing her to run away from him and hide. But, somehow he found her.
When the show returned in early January, we got our answers. For starters, Maggie and Jackson saved the patient, and the transgender intern turned out to be a tech wiz and hacked his way into the system and restored the hospital's codes. However, this particular episodes is centered around Jo.
From the start, when Jo was first introduced, we got bits and pieces of her past and her story- but we didn't get much. We finally learn the brutal details of why Jo had to escape her husband, Dr. Paul Stadler (Matthew Morrison). Arizona Robbins (Jessica Capshaw) and Richard Webber are completely over the moon that Paul Stadler, the surgeon who's famous for his surgical techniques, is at Seattle Grace Hospital. No one recognizes him for his true and dark self immediately, except for Meredith. She quickly recognizes the horrible man who is standing before them and doesn't hide her disgust when Dr. Webber asks him to go into surgery with her- because "Glasses" has now passed out. But, what Stadler really wants, is to give Jo divorce papers so that he can marry his new casualty, Jenny (Bethany Joy Lenz). Jenny seems to be just fine- a little standoffish, friendly even- despite the pain she's been experiencing due to Stadler's anger issues.
Stadler insists on having a "moment alone" with Jo in order to sign the divorce papers, but Meredith inserts herself as the "middle man". When the papers are now all signed and completed, Paul makes a snide comment while exiting the room- "..I hope this brings you some real peace, you deserve it. We both do." This sets Jo off and she says, "You don't deserve anything good. You're a monster."
Now that everyone is clued in on who Stadler is and what he's done, Jo rallies the troops to help create a diversion that involves Paul in order for her to get to Jenny and warn her and maybe try to help her leave Paul. Arizona quickly intercepts Paul and Jenny's exit and asks him for a moment of his time to discuss some new equipment the hospital has. Now that Paul has gone off with Arizona into another room, Jo jumps in and sits with Jenny, and begins trying to reason with her. Jenny, not willing to fully listen or understand, restates what Paul has said numerous times – that Jo's a nutjob. Jo won't take no for an answer, and she quickly explains to Jenny every gory detail of the abuse she went through and even though Jenny doesn't completely believe it – Jo insists she takes her number, just in case she needed anything.
Jo escapes promptly before Paul returns and leaves the hospital hand-in-hand with Jenny. A few moments later he returns, furious and tells her now he has her number and will always be able to find her.  
Both Alex and Meredith reassure her that she will be okay, and that they will make sure nothing happens to her (even if they might have a feeling they can't keep that promise.)  A few moments later, Paul coincidentally shows up in the trauma unit due to a serious car crash. This isn't the last we will be dealing with Jo's trauma, and who knows when we will again. Jo is fortunate enough to have a strong support system that helps her get through her tough circumstances.
Domestic abuse is a serious issue that occurs every day and it's a good thing that the show's production company Shondaland named the episode the number of the National Domestic Abuse Hotline because someone in the audience could see themselves relating to Jo's story. And with that, the show is making a connection to a song that has appeared multiple times on this show, showing us "How to Save a Life."
Grey's Anatomy is on Thursdays at 8/7 Central on ABC.