March Madness Updates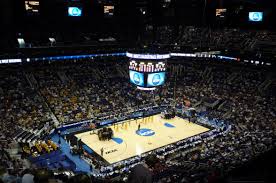 Hang on for a minute...we're trying to find some more stories you might like.
It is the time of year to fill out your 64 team bracket, hoping that yours finishes unscathed. It has never occurred before, and it won't be happening this year. The tournament has now reached the Final Four stage. To say that the path to this year's Final Four is surprising, is an understatement.
From the very beginning of the tournament, there have been major upsets. The most notable one is undeniably the greatest in basketball history. The Virginia Cavaliers entered the tournament as the number one-overall seed, ACC champions, and compiled and impressive 31-2 record. In the opening round, they faced the 16th seed, UMBC (University of Maryland, Baltimore County) Retrievers. Virginia entered the game as a heavy favorite to win the tournament, and were favored in the game by 20.5 points. The Retrievers came to play, as they stunned the Cavaliers 74-54. With the victory, the Retrievers not only garnered their first win in NCAA tournament history, but also became the first 16 seed to defeat a 1 seed in Division I Men's College Basketball.
Another shocking upset occurred when the Arizona Wildcats, a popular pick to reach the Final Four, were soundly beaten by the Buffalo Bulls, 68-89. In the game, the Bulls shot an astounding 15-30 behind the arc.
Every year, the tournament seems to feature a "Cinderella" team, referring to a team that goes on an improbable run. This year, that title belongs to the Ramblers of Loyola University, Chicago. Through guidance from the team's chaplain, 98 year old Sister Jean, the Ramblers have piled up several miraculous wins. This consisted of a 3 point buzzer beater to give them a 2 point win against the Miami Hurricanes, to a mid-range jumper that was initially short, but made its way into the basket against the Tennessee Volunteers. Loyola has now made its way to the Final Four, where they will face the Michigan Wolverines.
The Wolverines had a miraculous finish as well during the tournament. In the second round, the Wolverines went toe-to-toe with the Houston Cougars for 40 minutes. With a few seconds remaining, Michigan was confronted by a 2 point deficit. Shortly after the ball was inbounded, freshman Jordan Poole drained a long 3 pointer to give the Wolverines a win as time expired.