"Senioritis": Is it real and are you infected?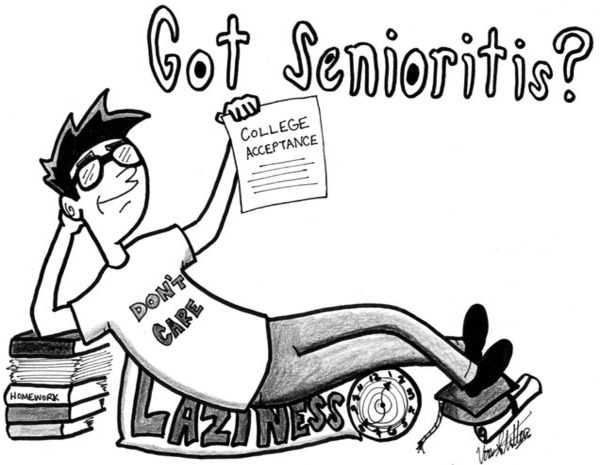 If you're missing class, not doing homework, not getting the grades on assignments you usually would – then senioritis could be to blame. What is Senioritis? It is a "supposed" affliction of students in their final year of high school or college, characterized by a decline in motivation or performance. The only known cure is graduation itself.
Despite the numerous jokes and silly definitions of Senioritis, it has been proved that many seniors do tend to "crash" during the end of their high school career. Although this is understandable due to months of preparing for college or any plans after high school, what many students fail to realize is this could negatively affect your chances and future. Allowing Senioritis to infect you could lead to your records being tarnished and regret down the road.
Here are a few signs you are infected…
Inability to do homework until the very last minute (if at all).

Try as hard as you might, when infected with senioritis, it's impossible to not wait until the last minute to do homework. Senioritis causes your procrastination gland to overproduce, making it difficult to start important homework or projects.

Extreme difficulty waking up in the morning.

Studies have shown that senioritis causes a severe decrease in energy in the morning. Because of this, Senioritis has been known to increase the average high school student's coffee intake by almost 50 percent.

Lack of motivation

A sudden decrease in motivation is extremely common when infected with senioritis. Whether you're having a hard time finding the energy to go to class or you simply can't think of a good reason to get dressed in the morning, senioritis is to blame.
If you have not been infected yet, here are some reasons not to and how to avoid it…
Colleges do notice
Colleges look at all four years of high school grades, including your full senior year transcript. Even if you only provided the first semester report, colleges will most likely request to see the second half of your grades. A significant grade drop during the second semester is a huge red flag.
Improve study habits
You should schedule study time directly into your calendar so you can hold yourself accountable. Form study groups with peers when reviewing difficult material and rather than cramming the night before, review test material throughout the week. Not only will these study habits help combat senioritis, it will also prepare students for college.
Find time to relax
Often the pressure to succeed can be the biggest factor causing students to slack. An overwhelming course schedule and the mixture of the college application process can cause students to shut down. It's important for you to take some time to relax. Spend time with friends and family and set aside some quiet time for yourself. You should embrace downtime and use it to relax, reset, and prepare.