Club Rush at Pitman!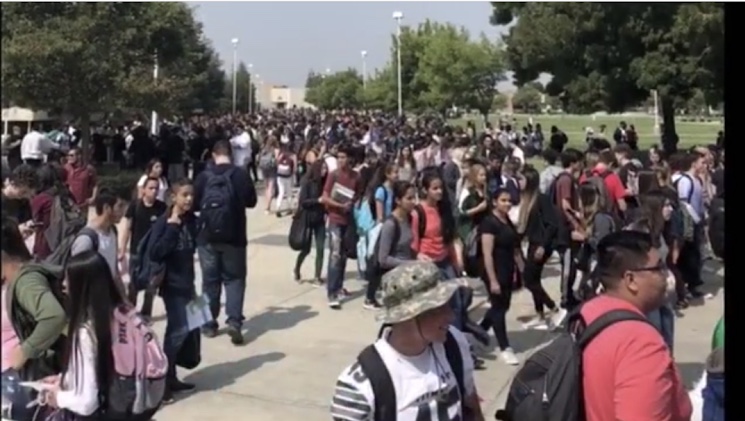 The Pitman school year just started! To start it off just right various clubs around the school joined to present their clubs, welcoming new clubs as well. The clubs are  diverse and unique in their own special way, making a spot for everyone at the campus.
From the students who make the school more exciting to ASB looking for recruiters and even those who want to stomp out drugs in PHAST club were all present looking for new members. Among these clubs I got the chance to speak to the SAVE Club, Slam Poetry club, and the Empowerment club.
A lot of students at Pitman do not know about one of the newest clubs on campus, Empowerment club! It is something new and exciting to add onto the positive environment at our high school. This club was founded by a Junior here at Pitman, Althea Millman.
"The purpose of the club is to help grow self confidence… and to take a break from all the crap in the world," Millman said.
With an affirmative tone that was very friendly, Millman proposed a new idea for students to learn self love and confidence, so if you're looking for a place to make new friends in a good environment this may be the club for you.
Pitman's brand new year doesn't only want to help grow self-love and confidence but the love to the campus by keeping it clean. What other way then the SAVE club.
SAVE club is a group of students who help recycling happen on campus. The representatives of the club were Gabriel Olide and Lizette Cruz.
"[The purpose of this club is] to improve our school and to help our school and help other communities by recycling," Olide said.
The responsibility of the members in Save Club is to collect the paper, cans, and bottles of the classrooms around campus during Pride Time. Although this club is smaller, their impact on Pitman is big.
"Not really it just started off as a seventh period class last year, and now we're just  looking like to enlarge it," Cruz emphasized.
From slamming cans into the recycling bin to expressing emotions, Pitman Slam Poetry  was also there to recruit new members.
Slam Poetry is a club in which poetry from students is performed during lunchtime (in Room B112) without any music or props. The club is a healthy and welcoming space where the students, more like poets, can speak their mind about issues they may want to address.
Catie Smith, a representative of Slam Poetry, informed students at Club Rush that slam poetry is a relaxed club and a good time.
A goal she said for them this year is to get into a Slam Poetry convention and  competition and hopefully win.
Amongst more creative clubs were Art club, yearbook, Drama and K POP.
A question some may have about Drama club is whether you have to be in Beginning Theater or Advanced Drama to be in the Drama Club- apparently not. So if you'd like to express your love for the arts you may join the club. They join together every other Tuesday at lunch.
For the athletic or competitive students  there is Spike Ball, Fellowship Christian Athletes, which is a bit of faith and sweat in one club. Another religious club on the campus Bound by Faith, a place where students can meet and have like interests. There is also Blankets of Love, which aims to spread generosity to ill children.
Our campus is pretty diverse in ethnicities which makes us a proud campus. There are clubs for a variety of people such as : Assyrian Club, Muslim Student Association (MSA), HYLC ( Hispanic Youth Leadership Club), and CORE. In these clubs you don't have to be the race of the club to join, especially if you just want to be more informed on a new culture!
Pitman is a campus with new ideas, love and a spot for everyone to expand their knowledge, passion, and make new friendships. We have a new adventure to join and a club for every student to join at Pitman High school.