School Spirit at Pitman High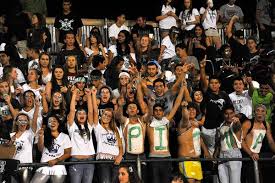 Hang on for a minute...we're trying to find some more stories you might like.
The spirit here at Pitman High School varies depending on the student. Some kids are full of school spirit and some kids lack of it. Why is that some students love being spirited and some students don't?
Out of more than 1,500 students, why don't all of them love being school spirited? Some kids also tend to have more of it for certain events.To find out for myself, I went around Pitman High asking different students, "Do you have school spirit and why?"
 As expected, I heard a very assorted amount of opinions. There were students that said they did, students that said that didn't, and students that said it really just depended on the event.
Most of the people that said they had school spirit said that they had it "because it makes high school more fun." On the other hand, the people that said they didn't have school spirit said that they "don't care about it" or that they "don't like school" so they didn't really see in importance in it.
I went around one more time asking students if they had more school spirit when we go up against our rival school, Turlock High, and mostly everybody responded "yes." Students seem to be more spirited when going up against our rival school because they see it as a competition to see which school has the most spirit.  
Pitman High tries to get the most spirit as they can out of their students and they encourage students to participate in events. Rallies definitely help bring out enthusiasm and spirit out of the students here.
Our pit crew could and should be as big as it is during the most popular event of the school year, Harvest Bowl. Needless to say, PHS students have a good amount of school spirit but could definitely use a lot more!