Halloween Snacks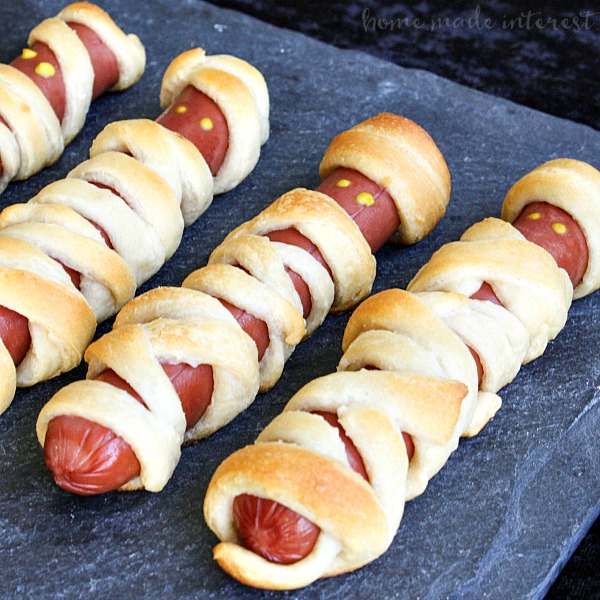 Hang on for a minute...we're trying to find some more stories you might like.
Halloween isn't always sugary and full of sweetness, sometimes it's savory, and served occasionally creepy, but always scary good. I asked someone to tell me what they like to eat for halloween? They said "For Halloween, I like to eat many things. Mostly for halloween we just make Chocolate covered strawberries with a side dish of Corn Candy. Its nothing fancy or anything spooky but its super delicious". Well now folks we will be discussing super spooky and savory snacks for halloween.
Halloween Monster Punch, a non-alcoholic Monster Punch is an addictively delicious drink that everyone of all ages can sip on. Using lime sherbet and frozen juice concentrates, you can also add green food coloring to enhance the emerald hue of the party mocktail. Sparkling ginger ale also reacts with the cold sherbet to create a bubbling "witches cauldron" that's the perfect finishing touch.
Mummy hot dogs make a perfect Halloween recipe they can even make these easy-to-prepare snack themselves. All you need is packaged crescent roll dough and hot dogs to create a filling hand-held meal for Halloween trick-or-treating.
Creepy Candied Corn– My generous friend offered this recipe, and now I am bringing it to you. Color your corn an eerie green hue to add a spooky effect at Halloween.
Li'l Lips– These cute things are so fun to make just take a medium red apple cut it into wedges and toss it with lemon juice. In a small bowl, mix peanut butter or nutella and cinnamon. Spread on the apple slice top with a second slice, pressing to form lips, press marshmallows onto the peanut butter for teeth.
Fluffy Orange Spread– With its pleasant orange flavor, this simple spread perfectly tops a variety of breads. Each bite has just the right amount of sweetness.In a small bowl, beat cream cheese and orange juice until smooth and creamy. Add sugar and orange zest; mix well. Serve with bread, bagels or toast.
Mashed Boo-tatoes– When you've already got costumes on your mind, why not disguise dinner as well? Classic meatloaf dressed up with two special side dishes. Use a pastry bag to pipe mashed potatoes into ghosts and sweet potatoes into pumpkins. The ghosts' eyes are black sesame seeds. For the pumpkins, pecan halves make the stems and bits of cilantro become leaves.
Pumpkin Spice Hot Chocolate
– Just try this hot chocolate with pumpkin, spices and white chocolate.
In a medium bowl, beat cream until it begins to thicken. Add sugar and vanilla; beat until stiff peaks form. Refrigerate until serving. Heat milk, cream, cinnamon sticks, pie spice and orange zest over medium heat until bubbles form around sides of pan.Whisk pumpkin, sugar and baking chips into milk mixture until blended. Remove from heat; stir in vanilla. Discard cinnamon sticks. Pour into mugs; top with whipped cream. Sprinkle with additional pumpkin pie spice.
Caramel Apples
–
In a small bowl, mix sugar and cinnamon. Drizzle with butter and sprinkle with sugar mixture; spread in a parchment paper-lined baking pan. Bake until golden brown.Remove and discard stems from apples; insert pop sticks into tops. Line a baking sheet with parchment paper. Arrange ten pairs of cookie halves on parchment paper for toppings. Place caramels and milk in a microwave. Microwave for 3 minutes, stirring once. Dip each apple in caramel mixture, allowing excess to drip off and decorate with sprinkles.