Bohemian Rhapsody: A Beautiful Tribute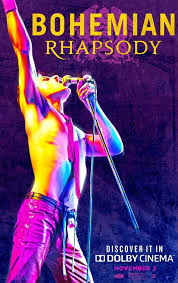 Hang on for a minute...we're trying to find some more stories you might like.
Bohemian Rhapsody is a biography film that is over two hours long and directed by Bryan Singer. The movie, released on November 2, 2018, is a tribute to the rock band Queen. It is mainly centered around Freddie Mercury, the lead singer of Queen.
Freddie Mercury, portrayed by Rami Malek in the film, was a British singer-songwriter who sadly died from AIDS on November 24th, 1991, at only forty-five years of age.
The movie takes the audience through his life, from before he met the rest of Queen to the tragic moments when he revealed that he had AIDS. It shows the highest and lowest points of Freddie's life and how the band got to their most popular point.
It wouldn't be a good movie about Queen without the rest of the band. Ben Hardy portrayed a young Roger Taylor, Joseph Mazzello played John Deacon, and Gwilym Lee represented the great guitarist Brian May.
Queen as a band touched many people's hearts so it's only justifiable that the movie does the same.
It is no surprise that many news outlets have written their opinion on the movie, as it did extremely well in box offices. It is also understandable why the movie has mixed reviews because, although every movie has people who love it and those who hate it, a biographical is definitely an easier genre for people to be separated on.
When the living try to make a film about someone who has passed that still has a devoted fan base, it's evident that one side could possibly think the movie did Mercury justice and the other might believe it didn't portray everything that made Queen and Mercury important.
For instance, an article in the New York Times discloses the author's feelings that the movie seemed unauthentic and cliché.
"…the film seems engineered to be as unmemorable as possible…," the author wrote.
When you think about the plot of the film, it sounds like the usual biographical movie, where we watch the main character step into fame, and we are taken through the high points of their career, then taken through a downward dip into their darker days, and finally seeing them dig their way back up.
But while one is watching the movie, it doesn't feel cliché- rather it feels nostalgic for those who listened to Queen when they were younger. In addition, the movie has many twists and turns that happened during Mercury's real life that cause the film to stand out amongst other biographics.
The emotions that the movie invokes in those who watch it also makes it a film unlike others. It is an extremely interactive movie, with the music and the relationships causing feelings to ignite in viewers that not many movies can replicate.
Watching how the band got along with one another and also how they fought with each other is a beautiful sentiment throughout the movie that emphasized the idea that they weren't just a band, but they were a family.
The music is a blast from the past for fans that listened to Queen when they were younger and the performances were as eccentric as everyone remembers. A writer from Common Sense Media agrees that Rami Malek did a great job in his performance.
"The music sequences in this drama are electrifying…," the author shares.
The last scene was especially moving, as viewers are taken to Queen's performance at Live Aid, some watching for the second time, this time knowing what was going on behind the dancing and the smiles. Fans were brought back to the magical moments of July 13th, 1985, where Freddie Mercury and the rest of Queen poured their hearts into the music and watched the crowd respond accordingly.
For those who believe the movie did not do Mercury justice, we have to acknowledge that fitting a person's entire life into a decently short timespan is next to impossible. It's also hard to know exactly what the person would have wished for because they aren't around to let anybody know.
In addition, we have to look to those who loved Mercury and hope that they find some kind of peace in the movie and that they feel like it was what the Legend deserved.
A writer for Vanity Fair shares in an article about the movie that Brian May, Roger Taylor, and even Mercury's own sister applauds Rami Malek's performance.
It is undeniable that it offers some kind of feeling of content to know that those who were closest to Freddie support the movie and Malek.
Everybody will have their opinions on Bohemian Rhapsody, but it's more important to look at the bigger picture of what the movie stands for and represents. It is a tribute to a legend that has contributed greatly to the music industry and will be remembered as that and so much more.