The Turlock Christmas Parade!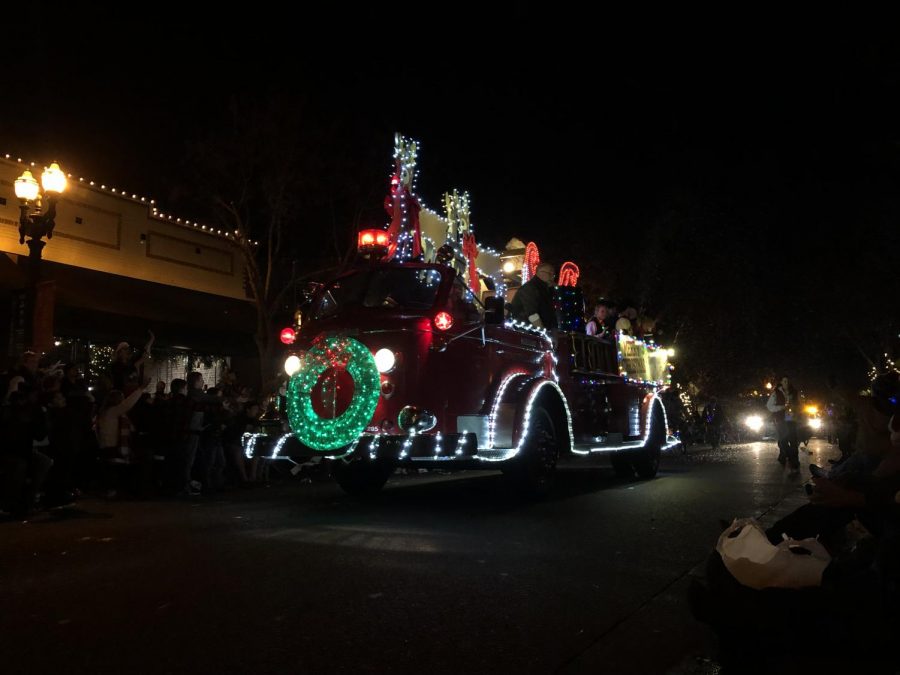 It's a jolly season and Turlock is certainly feeling the Christmas spirit.
'Tis the time of year for the Christmas Parade to roll down the streets of downtown Turlock. Full of beautiful floats, merry music, and an all around feeling of cheer, the parade is something many people look forward to.
Whether you're going with family, friends, or a significant other, it is hard to feel angry while drinking hot chocolate and listening to floatees sing Christmas songs.
This years theme was 'Rolling With the Decades,' and the floats were certainly gnarly (my attempt at an 80's pun).
The floats varied widely, from one displaying the Nativity of Jesus to another that had somebody dressed up as Shrek. Boy Scouts, young football players, and other participants not on the float itself, waved and passed out sweets to the viewers.
Our very own Pitman High was featured in the parade, including our band and FFA members. Our band and color guard wrapped themselves up in lights and marched to multiple different Christmas tunes, one being Angels We Have Heard on High. The members of Future Farmers of America made a beautiful float full of color and repped their iconic FFA jackets.
There were certainly some flashes from the past for highschool students as both Turlock Junior High and Dutcher Middle school participated in the parade as well. Both schools had their band playing, giving us a look at some future Pitman High Marching Band members.
Approximately 20,000 people attended this years parade! It was next to impossible to easily maneuver through the crowded streets and it was a miracle if you were able to get back to your seat with close to no hardships.
Arley Dominguez, a sophomore at Pitman High School, had a front row seat at the parade and gave her honest opinion on it.
"The Christmas parade was great in my opinion. I mean the floats were okay but spending time with my friends and being able to come together as a community was nice. Also, down town is REALLY pretty at night so there's that. My favorite float was the one where Mary was holding baby Jesus, I don't know why but that one stood out the most for me. Omg is it because it's THE TRUE MEANING OF CHRISTMAS.," she exclaims.
Something downtown doesn't get enough credit for are the adorable places to eat that line the streets. For example, a crepe shop called Café Rome fueled many parade goers with tasty crepes and warmed them up with hot drinks.
Christmas music played all night long and colorful lights illuminated the road for the entirety of the parade. Watching everybody interact and enjoy the same thing really gives off the feeling of Christmas time.