All About Recovery!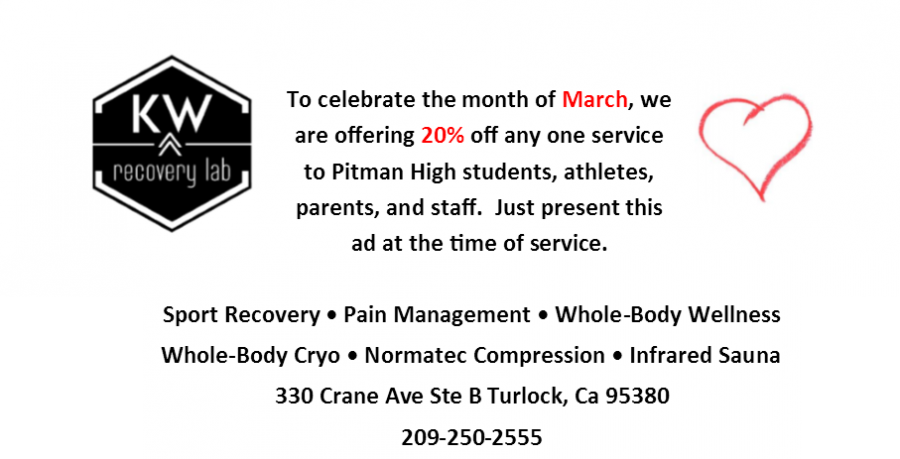 Downtown Turlock is home to numerous restaurants, shops, and parlours; they are all hidden gems in their own right. Be that as it may, there is one establishment that is unlike all others, and that is the KW Recovery Lab. Located on 330 Crane Avenue, this new body wellness center specializes in helping clients rest and recover from sports-related injuries before suffering serious and sometimes permanent damage. In fact, the KW Recovery Lab has made history as it is the first ever muscle recovery center established in Turlock.
The woman behind the scenes of it all is owner Susy Delgado. Delgado was born and raised in Denair and furthered her education at CSU Fullerton where she graduated with a bachelor's degree in kinesiology. She is evidently knowledgeable on all things concerning sports recovery and came back to Turlock with the hopes of emphasizing the importance of what she learned.  
According to an article posted by the Turlock Journal in July, Delgado has had "10 years of experience in the physical therapy setting." When I asked as to why she chose to open her business in a fairly small town like ours, she responded "Turlock is home for me, so I wanted to bring my concept to my hometown.  There are recovery centers in So Cal and the Bay Area but most underestimate how active we are here in the Central Valley. There are more and more adults staying active, doing CrossFit, marathons, and rec sports than people think."
Throughout our first meeting, she emphasized the importance of preventing injury and maintaining good health. Her passionate tone did not go unnoticed and in the first thirty minutes of our meeting, I was convinced that the wellness center would prove to be an integral place for students and adults alike. After all, whether you work out regularly or not, it is our responsibility to prioritize our health. Delgado said it best: "Anyone who is moving is an athlete." (Turlock Journal)
Although the lab mainly sees athletes from Pitman High and Turlock High, as well as Stanislaus State, that does not take away from the fact that they accommodate everyone. Whether you are sixteen and running around for four hours a day at your first part time job, or a fifty-seven year-old who simply suffers from joint pain, the recovery lab welcomes you!
The lab's doors first opened last August and have since been offering countless services that reap just as many benefits. These services include ice bath therapy, normatec compression therapy,  whole body cryotherapy, infrared sauna, and last but not least kinesio taping.
By taking part in even one service from the lab, you can be one of their many satisfied clients who experience a wide range of benefits. These advantages include but are not limited to: decreasing recovering time, improving metabolism, lowering blood pressure, improving circulation, and combating inflammation. Their main goal is to "get more people focused on prevention, because helping our bodies feels better for everyone and that's what we hope to provide."
Sean Francis, a senior at Pitman who has participated in both football and track, has visited KW multiple times. He's been there more than seven times after suffering from fatigue and a couple of sports-related injuries. After trying out cryotherapy, he reported recovering faster than usual and encouraged all students to go there at least once to see for themselves. Not only does KW have a friendly and dedicated team, their services are clearly effective and Sean said he would rate his experience a "ten out of ten."
Markus Turner, the beloved athletic trainer here at Pitman, also refers students to the recovery lab. Although he has not been there himself yet, he hopes students take advantage of the extra care if they need it!
As for Delgado, her  main hope is to "open more locations and make these methods more accessible." She herself is an active runner and surfer but feels that "our healthcare system should move towards prevention methods."
The KW Recovery Lab's future undoubtedly seems bright and hopefully everyone pays them a visit! Be sure to take advantage of their coupon in the printed issue and like Delgado says, "keep moving and stay active Turlock!"