Ten Pin Fun Center!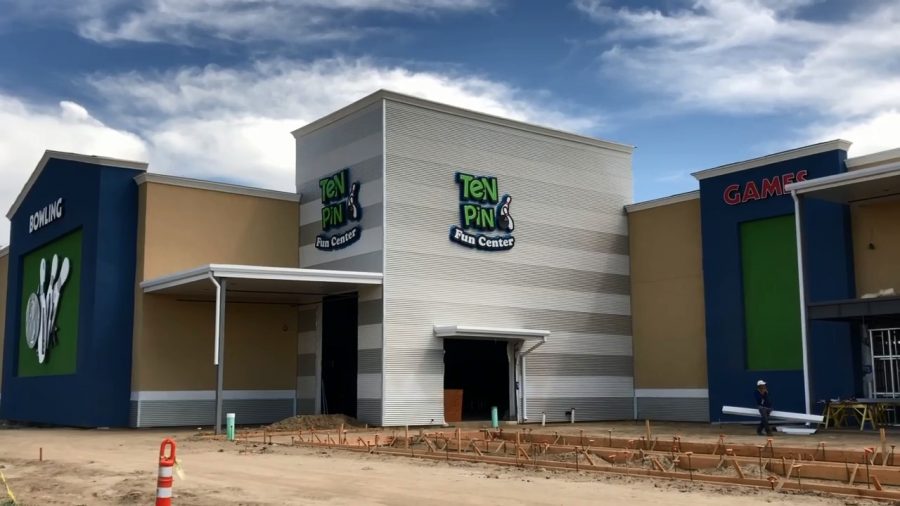 The bowling alley! Finally a bowling alley in Turlock! And what better than to have a bowling alley near our school! The bowling alley is called Ten Pin Fun Center. It consists of "34-bowling lanes, more than 60 arcade and interactive video games, a two-story laser tag arena, three full bars, an outdoor beer garden, a bocce ball court and a covered patio."
The bowling alley is located at 3700 Countryside Drive, Turlock. This is very cool because it's close to our school and the Monte Vista Crossings for Turlock's people and students to fulfill their entertainment this summer or weekend.
What has been a big buzz recently is the 100+ job openings!
"The center will be hiring restaurant hosts, servers, bartenders, cooks, bowling and gaming hosts, game technicians, bowling mechanics and more. Job seekers must be at least 16 years old, but those under age 18 require a work permit. Take a resume and identification, and be prepared for on-the-spot interviews during the event."
Applicants are invited to attend a multi-day hiring fair from 10 a.m. to 7 p.m. April 2 to April 5 at the center, at 3700 Countryside Drive."
The Job Fair already passed, but it is okay- you guys still have a chance!
According to the Ten Pin Fun Center website, "Due to the overwhelming response, our job fair concluded early! If you're still interested in a position, applications will be accepted at Express Employment located at 2350 W. Monte Vista Avenue in Turlock for any future employment opportunities."
Pitman students gave their opinions on what they thought about the bowling alley.
Sophia Anderson, a junior at Pitman, says "I'm really excited about the bowling alley, I've been hearing about it for a while and I'm honestly shocked it's finally being built."
She says, "I actually have already applied for a job at the bowling alley, I'm just waiting for a call for an interview."
Anderson says she she definitely plans on checking it out: "I love bowling and I'm very excited to see the final result!"
Kyahn Issa, a junior at Pitman, also gave his input on the new bowling alley opening soon in Turlock.
He says he think the bowling alley is great for Turlock and will be very busy often. He's planning on applying for a job soon, and will check it out for fun!
Eden Franklin, a senior at Pitman, lastly gave her opinion on the bowling alley as well.
Franklin said, "I think the new bowling alley in Turlock is so cool! It will definitely be a new and fun hangout for teens and families to come together. Who doesn't like bowling?"
Ultimately the teens are really happy and excited to have something to do this spring break and summer!  Whether it be a summer job or summer fun!
Stay tuned Pitman, The Ten Pin Fun Center is supposed to be opening this Spring Break!