Mr. Grishaw's Retirement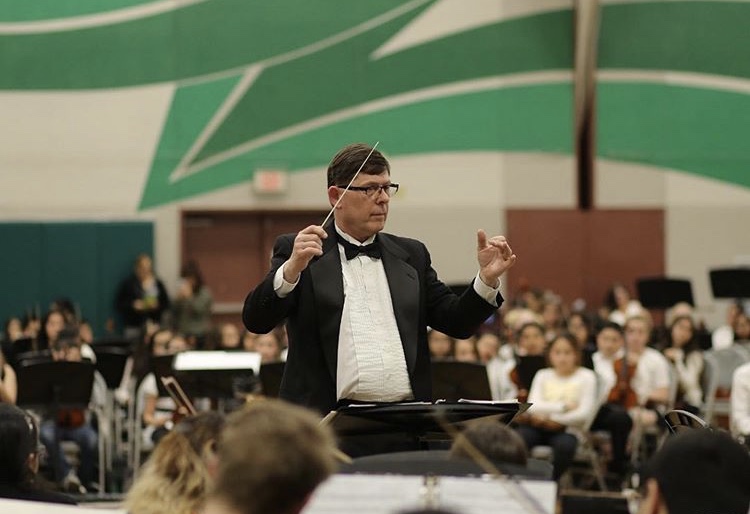 "Everyday is a good day just that some are better than others," says Mr. Grishaw.
Mr. Grishaw is currently a Spanish 2, AP Spanish Literature and Culture, Concert Orchestra, and Chamber Orchestra teacher here at Pitman High School.
He has been teaching for thirty-seven years now and he is going to be retiring this year.
As an AP Spanish student, Mr. Grishaw has been a very important Spanish teacher!
He's been teaching Spanish and Orchestra for many years. His class feels very personable as he's had many siblings of students throughout the years.
Mr. Grishaw is very calm, kind, and patient in his teaching. He's a very relatable and understanding teacher, who never gets mad, and is very humble.
Not only is he a Spanish teacher but an orchestra teacher. He's influenced the music life of many of his students.
"Mr. Grishaw influenced us by helping us become the best musicians we could possibly be. His calm personality and kind motivation helped us become who we are today – the best version of ourselves – shaped by music and creativity," says Ana Zarate, a senior here at Pitman.
Zarate's favorite orchestra event has been their yearly trips to Southern California. As orchestra students, they had the opportunity to play for several different colleges and professors.
"I'm so grateful to have had a teacher like [Mr. Grishaw] in my life.  No matter the circumstance, [he] has always been so kind and helpful to me. We will never forget [him]."
Klarissa Diaz, a senior, says, "He taught me the value of getting lost in music. In his class, music isn't competition. Music is a language, and I'd say I'm familiar with the violin now."
Diaz also commented, "My favorite event from orchestra is probably going to Disneyland with his class and having fun."
It's no wonder how much of an influence Mr. Grishaw has had on students here at Pitman. His contributions as a music teacher have touched the lives of many.
"I'd just like to thank him for being the kind, understanding teacher he is because he made showing up to school something I wanted," says Diaz.
Mr. Grishaw is not a native Spanish speaker; he learned Spanish because he wanted to become bilingual and have the talent of speaking another language.
He finds Spanish easy and fun, which sooner or later led him to his career of being a Spanish teacher.
He was working as a teacher in Wakefield Elementary and heard about a new high school opening up being Pitman and applied as a Spanish teacher. They saw he had a music credential and became an orchestra teacher too.
"I liked it! I didn't think it was hard and I liked it a lot. What is hard is figuring out how to explain the topic to the students since I know the answer," Mr. Grishaw himself comments.
"I would have to say over the years you teach the same material so many years, but every year you teach things differently and kids get it. The best thing of being a teacher is the students; watching them grow and learn, watching them do new things."
Mr. Grishaw would like to tell his colleagues: "Thoughtfully live every moment. Everything is good. Live every moment to the max."
And a message he would like to give to all of us is, "I hope every student can find their talent and their passion. I believe everyone has a talent, it might not be in the classroom or athletics, just following their passion and they'll find happiness in their life."
  Thank you Mr. Grishaw for your dedication of being such a wonderful teacher, and staff member here at Pitman High. We wish you the best!