2019 NBA Off Season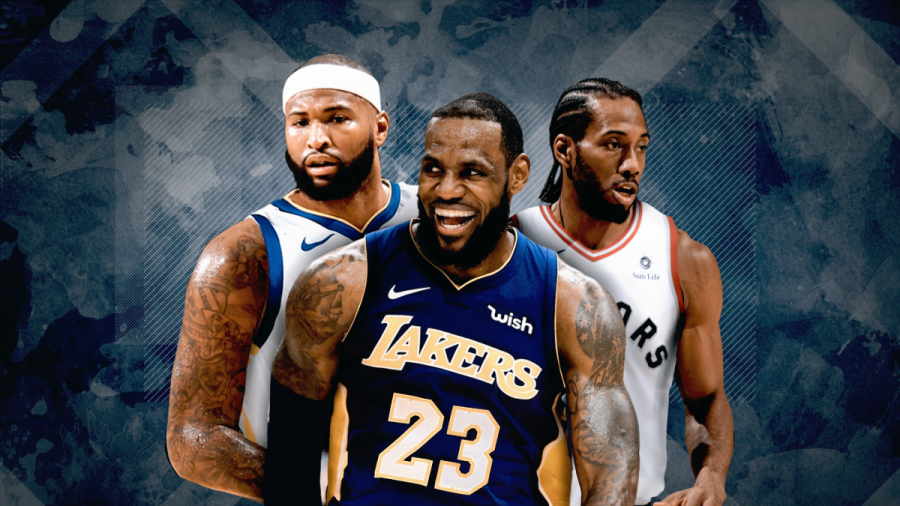 The 2019 NBA offseason had a very surprising turn of events. Teams lost their best players, they also lost valuable pieces that helped run either offense or defense. Before the offseason even started mostly everyone thought the Warriors were going to win the championship again, nobody ever thought the Raptors were going to beat the Warriors in 6 games. Once the finals were over the Warriors lost a Super-Star caliber player. The NBA changed over night. The NBA is not full of Dynasties anymore it's more on the Big 2 or 3. 
Some big moves that happened is that Kevin Durant has left the Warriors and is on the way to Brooklyn New York. Kyrie Irving has also left the Boston Celtics and signed with the Brooklyn Nets. These 2 players were key ascents for their old teams even though there old teams will do fine without them most people think they won't and they will struggle. First the Celtics replaced Kyrie with Kemba Walker an underrated player who deserves to be on a playoff caliber team. Second is Kevin Durant who left the Oklahoma City Thunder because, Russel Westbrook was a ball dominant player and he wanted to win fast and easy so he went to the Golden State Warriors. Russel Westbrook got traded from the Thunder and is now playing with James Harden, and the Thunder got Chris Paul.
Kemba Walker a player that played for the Charlotte Hornets has left his team and is on the Boston Celtics. The Hornets are going to be pretty bad next season due to them losing him and not getting any talent to support him. One of the biggest moves happened this offseason where Kawhi Leonard left the Toronto Raptors after winning a championship with them, after they signed him they got Paul George a All-Star caliber player. Anthony Davis got traded for Lonzo Ball and some other young players, New Orleans is looking to start from scratch and help develop their young assets.
Joban Mann gave his opinion by saying this, "Leonard signing with the Clippers was surprising even though he won a championship with the Raptors and Davis getting picked up by the Lakers was bound to happen.¨
Most of the NBA teams are going to do fine next season especially the Lakers and the Clippers.
Joban Mann gave his opinion on his favorite team the Lakers going for the title, ̈Lebron is an all around player and they got Danny Green with experience all their players have experience and they are stars from other teams.¨
He also said, ̈Lakers have a very experienced team besides there new head coach.¨
The Draft had some promising players and maybe some future Hall-Of-Famers like Zion Williamson, Ja Morant, and RJ Barrett. Some people think Zion didn't deserve the 1st pick because he doesn't have a good jump shot but he has the athleticism, height, and body weight. 
Joban Mann gave us his opinion on this pick, ̈ He's big and fast and gets easy 2s in the paint and would team good with Lozo because he has good passing vision.¨ 
Bol Bol a player that was suspected to go in the top 10 or even 5 went in the 2nd round! They didn't want him due to him missing most of his college games with a foot injury and he is 7 ́2 which means that foot injury can affect his playing style a lot, If all is good he will be a dominant player in the NBA. 
The Offseason was great! Many players are on new teams, it will be very interesting to see them pair up with other players.  The Draft was also very interesting due to it having very promising players it will be very fun to watch the 2019-2020 season!