Kaden Matthew Farro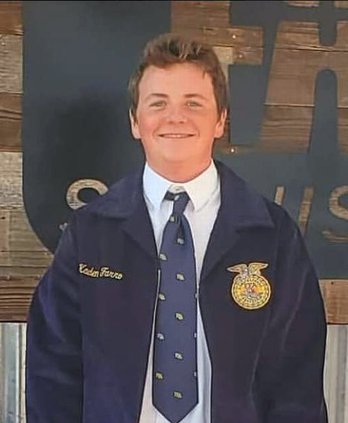 On September 7th, 2019, we all lost a very close friend, maybe even a family member. Kaden Matthew Farro sadly passed away due to an ATV accident in an orchard near Hawkins and Keyes roads. This has affected many people, including me, in a very upsetting way. No family should be planning their son's funeral, especially when he was only 16 years old.
Kaden was a Junior at Turlock High School and was heavily involved in FFA and Turlock's football team. He had many friends at school. They all say his smile could brighten your day instantly. In knowing Kaden, I can attest that this was true. He had the biggest smile all the time and always looked out for his friends no matter what was going on. His mother spoke on how she was feeling to CBS Sacramento. 
"Every mom has nightmares of those exact words filling your ears," Kaden's mother, Maureen Shamogcian, said to CBS Sac. She also had said that he was the light of their family and that she will deeply miss her son. I don't think anyone will forget Kaden and his amazing connections that he made with people. 
Students from Turlock High put together meetings at Kaden's normal parking spot. These meetings went from the beginning of school till 8:30 at night or later. They were put together by students Jesse Singh and Trevor Nichols. Both students and staff brought out flowers Mountain Dew, Kaden's favorite soda, and anything else that reminded them of him. I went to these meetings and I'll tell you, these kids really loved Kaden. Death is always a sad thing, but these kids would sit around his spot, sharing memories they had with him and just drink Mountain Dew to keep his spirit alive. 
I was able to interview a student Jillian Laney who's a Sophomore at Turlock High and asked her a few questions about Kaden's and her friendship while also getting her reaction. 
"My reaction was nothing. When I found out, I just stared and didn't believe it. I was speechless."
"My first impression of Kaden was that I had to be friends with that crazy guy and that he looked like he had the biggest heart. He looked like he could be my best friend for life.
"My best memory with him is when I would see him going to the AG building. I would give him the biggest high five and he would always stick his tongue out and I'd tell him to stick it back in his mouth and he would just look at me for a second and tell me no. His stupid tongue was always out but it was the highlight of my day." 
Jillian's responses were pure and the sweetest memories ever. I know she will always keep him close to her heart. Many students and even teachers will keep Kaden very close at heart and keep his memory alive. 
Following up on what Turlock High has been doing to honor Kaden's memory. On Thursday, they did a white balloon release in the quad area of the campus. On Friday, they had a home football game, but the theme was whiteout where everyone wore white to honor him and there was a moment of silence. There will also be FarroFridays at football games and on Turlock High's campus, which will include wearing white and doing other small things to honor Kaden such as meeting at his parking spot.  I think this is awesome because it's keeping his memory alive. 
In conclusion, wherever you go to school whether it be here at Pitman High or across town at Turlock High, make memories while you can, be there for one another no matter what, and be nice to everyone. Rest In Peace Kaden Matthew Farro, we all love and miss you very much. Fly high love.