Ten Pin Fun Center: Turlock's Newest Edition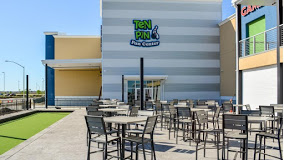 The space availability and growing population of Turlock has long made it a city open to new additions of commercial areas. As a result, in recent years, Turlock welcomed new commercial areas and restaurants, allowing more places for the citizens of Turlock to spend their time. One of the newest additions, Ten Pin Fun Center, recently opened up for the public! Plan and construction for the center took approximately a decade to complete. After ten long years, the center opened its doors in the summer of 2019. The site offers family friendly fun and can be found on 3700 Countryside Drive.
Ten Pin offers thirty-four, fully functional bowling lanes. Before picking a lane, customers pay for bowling lanes, number of games (each an hour), and bowling shoe rentals. After payments, individuals proceed to an open lane. Every two lanes has a table and lounge couches on both sides of it. At the end of the lanes there are giant screens constantly playing a show or sports game. A tablet, attached to the table, allows players to set up the number of players on a lane, and control other features relative to the game and respective lane. Behind the tables, rows of bowling balls line shelves; people can pick and choose the bowling ball of their choice.
The bowling facility—much like other bowling facilities—offers other activities besides bowling. Walking in, a person is met by a lively arcade area. The arcade features multiple games and activities, accessible through purchased credits. Customers who play arcade games have the chance to make exchanges for prizes. Among the games, the arcade also features a laser tag room and a virtual reality roller coaster. 
Deadwood Social serves as the center's main attached restaurant. The restaurant has an attached seperate section in the building. In it, customers can sit and eat in the indoor dining area, or take a seat at the bar. Outside, people can sit and eat in an outdoor eating area, where sometimes musical acts perform. The diverse menu can accommodate meat lover's and vegans alike. Servers can also take a food order to a customer's bowling table; they can then enjoy a savory meal and a bowling game at the same time. 
Prices for bowling depend on the time and day of the week. From Monday to Thursday, a person will have to pay $4.50 per person, this price includes the bowling lane. Fridays, before five, offer the same deal. On the other hand, Fridays after five, all the way up to Sunday, require a fee of $42 per hour and lane. Additional to the game expenses, people must rent bowling shoes to play, which are $4 per person. From Mondays to Thursdays, as well as Sundays, the center is open from 11 AM to 11 PM. On  Fridays and Saturdays, it's open from 11 AM to 2 AM. 
From personal experience, Ten Pin was an enjoyable place to bowl. While inside, the place displays a lively atmosphere. All around, people are having fun with friends or family, and the air smells like pizza. Isaac Ocegueda, a sophomore had his first bowling experience at Ten Pin. When asked if it was fun to bowl there he had the following to say about it: "Yes, because I got to spend time with my family…bowling was fun."
Anybody looking for family friendly, local fun should definitely give Ten Pin Fun Center a chance.