HOSA RLC 2019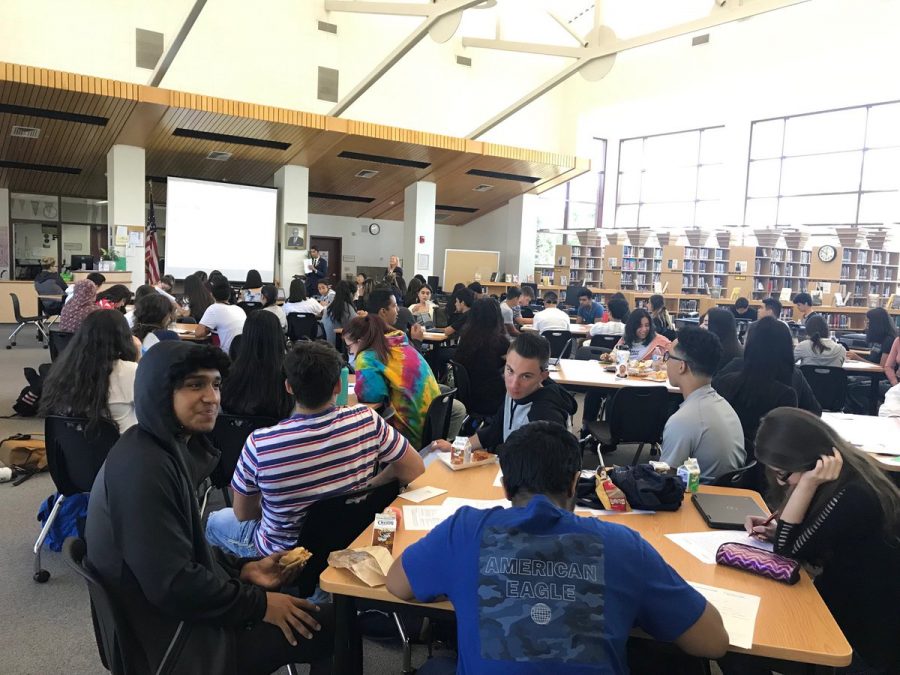 Apart from this, the crossword activity was another workshop that capitalized on the advantages of teamwork, leadership, and adaptability. In this activity, members were separated from their peers and placed into groups with unfamiliar people. A large, blank poster was sprawled onto the tables and each team must solve the entire puzzle. However, teams were given obstacles to work around. Prohibition of speaking, the inability to pass around the marker, and switching crossword papers with other teams were a few disadvantages that were presented to the groups.
Yajaira Bains comments: "It surprised me because I found myself leading that group a lot without even realizing it. I learned more about myself and the leadership skills that I didn't know I had."
Further, two speakers raised awareness teen driver mortality rates. One woman shared her sister's story, Itzy, who died on a car ride home from Pismo Beach with her friends. Itzy didn't wear her seatbelt, which resulted in her being ejected from the car at the moment of impact. The speakers taught the importance of safe driving practices.
Additionally, HOSA members attended an informative Stop the Bleed presentation where they learned how to properly use a tourniquet and pack wounds. Each member had the hands on experience of using tourniquets on one another and stuffing gauze down silicone holes imitating deep wounds.
Lastly, all groups were gathered into the auditorium to listen to two physicians speak. The audience was given the opportunity to ask questions and gain insight on their day to day life.
At the end of the day, Pitman High School HOSA members reflected on their day at the medical conference.
Marcos Mendoza says, "I thought it was a great experience. It was a very inspirational speech to always work hard. It was not just informational, but also a fun experience with other members."
Stephanie Nuñez adds, "Being able to work with different people out of my friend group was something I truly enjoyed. Having the opportunity to connect and share ideas with my peers while working on challenging events brought the best out of all of us."
Jessica Melchor comments, "It was a great experience, very hands on and inclusive."
Aleecia Silva states, "I thought RLC was a great experience. This was my first year attending and I was surprised at how many hands on activities there were. I am truly glad I attended because I felt I gained a lot of new knowledge from attending."
Leena Sanchez expresses her thoughts, "I thought RLC was a great experience and it was a great way of getting an idea of what SLC will be like. The breakout sessions were fun and very interesting."
Yajaira Bains notes, "I thought it was very informative and helpful for me to better understand myself and my capabilities, and it makes me excited to see what more I can learn about myself in HOSA."
All in all, the 2019 Region 3 Regional Leadership Conference was a fun and insightful opportunity for all HOSA members to gain leadership skills and knowledge regarding healthcare career options.