Alzheimer's Awareness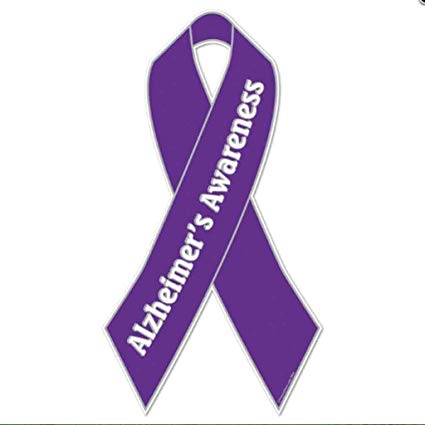 The month of November was designated as Alzheimer's Awareness Month in 1983 by Ronald Reagan. Alzheimer's disease is a progressive disease that destroys memory and other important mental functions. Symptoms of Alzheimer's disease gradually worse over a period of years. In early stages, memory loss is mild. In later stages, people cannot carry on conversations and respond to their environment.
There are more than three million cases of Alzheimer's disease per year. The greatest known factor of Alzheimer's disease is increased age. A diagnosis of Alzheimer's disease includes a thorough medical history, mental status tests and documentation, a physical and neurological exam, and tests (such as blood tests and brain imaging) to rule out other causes of dementia-like symptoms, according to https://www.va.gov/QUALITYOFCARE/education/Alzheimer_s_Awareness_Month.asp.
According to a report by the Alzheimer's Association, "Alzheimer's disease is officially listed as the sixth-leading cause of death in the United States. It is the fifth-leading cause of death for those age 65 and older. However, it may cause even more deaths than official sources recognize. Alzheimer's is also a leading cause of disability and poor health (morbidity). Before a person with Alzheimer's dies, he or she lives through years of morbidity as the disease progresses."
The report also states, "An estimated 5.8 million Americans of all ages are living with Alzheimer's dementia in 2019. This number includes an estimated 5.6 million people age 65 and older and approximately 200,000 individuals under age 65 who have younger-onset Alzheimer's, though there is greater uncertainty about the younger-onset estimate. Of the 5.8 million people who have Alzheimer's dementia, 81 percent are age 75 or older."
Alzheimer's Awareness Month's purpose is to honor people with Alzheimer's disease. Some people try to spread awareness and help people with Alzheimer's disease by wearing purple, participating in a Walk to End Alzheimer's, caregiving, petitioning the government for change, and making financial donations. Some people also try to inform themselves about Alzheimer's disease in Alzheimer's Awareness Month. Some people volunteer to work in local or national organizations to help with events and other things.
According to an article from The Frederick News-Post called "November is National Alzheimer's Disease Awareness Month," "As scientists diligently search for a cure, lifestyle choices offer the best way to delay or prevent the onset of this disease."
I interviewed a fellow senior at John H. Pitman High School. I asked him if he knew anyone with Alzheimer's disease. He stated, "I do not know anyone who has such a condition as Alzheimer's."
I asked him if he thinks it is important to spread awareness for Alzheimer's disease. He stated, "Very important because it is an ongoing condition affecting people of old age."
I asked him if what he knew about Alzheimer's disease. He stated, "It is a disease that causes people to forget things short-term and long-term."
I asked him if he did anything or was planning to do anything for Alzheimer's Awareness Month. He stated, "No. I am not at the moment."
Hopefully, the actions of people during Alzheimer's Awareness Month will give great help to the people that suffer from the disease.