Christmas Movies 2019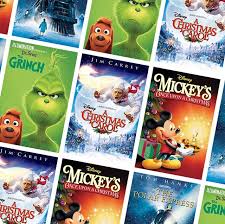 Most of the time when we think of Christmas movies we think of the traditional movies that have become classics over the years. I asked a student on campus about their favorite Christmas movie is and why. This was their response. 
"The Grinch because it goes with the Christmas theme. I'm a color person so when I think of Christmas colors, I think of the Grinch." replied Jasmeen Kaur
The classics are always fun to watch, but it can get boring watching the same movies over and over, every year. It's about time we try something new. 
Every holiday season there are always some new Christmas movies that gain a lot of traction thanks to the millions of times it was advertised to us on Netflix. Most of the time these movies are terrible, but Netflix did not disappoint this year. 
There are two movies in particular that Netflix released this holiday season. One is a well written and amazingly animated masterpiece and the other being a nonsensical, comedy made for those looking for a good laugh. 
Klaus is probably the most entertaining Christmas movie I have seen in a long time. Klaus is a very imaginative movie that brought a whole new take on the origin of Santa Claus. 
Each character is memorable in their own way, but the dynamic friendship between our protagonists, Jesper and Klaus, is unforgettable. Jesper, although came off as spoiled and annoying at first, turned into a very lovable character after meeting Klaus, the kind-hearted soon to be Santa. Of course, there are the other townspeople and antagonists, but these two make the whole movie worth watching.  
The animation is very unique and well done for a 2D animated movie. We don't see many 2D animated movies like this anymore since everything is CGI nowadays. It is a very nice change of pace that will hopefully become a Christmas classic. I highly recommend this movie to those looking for something new and different. 
The Knight Before Christmas came off as a stupid movie, but it was very fun to watch. Many have criticized its lack of logic, but what do you expect from a Christmas movie? Most Christmas movies are all about miracles and Christmas magic. It doesn't have to make sense. 
Sir Cole, played by Josh Whitehouse, gave a hilarious performance. His goofy, pure-hearted character is the cutest thing about this whole movie. His disbelief and misinterpretation of things made him a very naive yet charming character. 
It is the little things he does that make him so charming, like bake bread, hide gifts in the Christmas tree, and help others. He didn't have a reason for doing any of these things, but he never complained. He definitely has all the ladies swooning over him. This movie is pretty bad, but it will turn into something you never expected.
The holiday season has a lot to offer and I for one plan to take advantage of everything they have.