Trump Trade War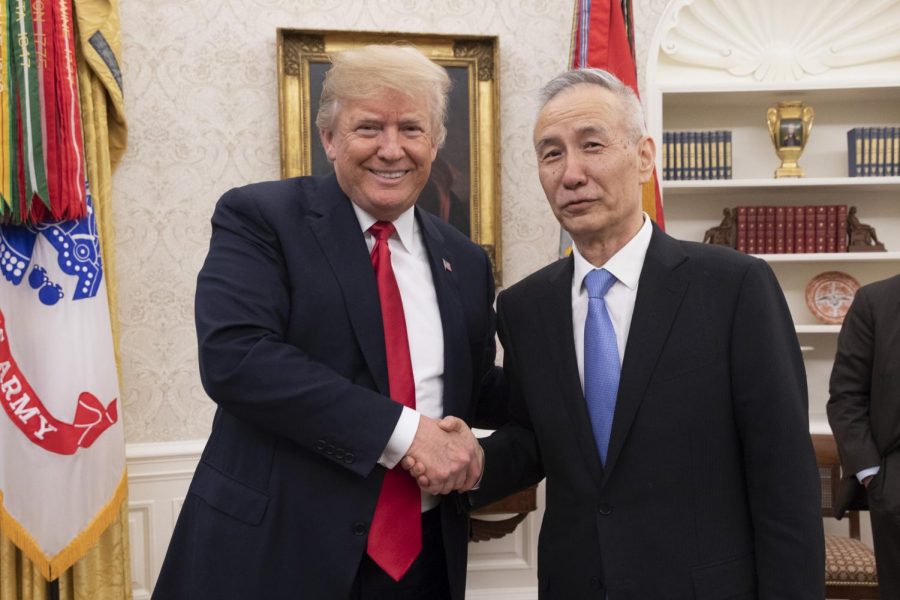 About two years ago when the iPhone X was unveiled, what was your first impression of it? Maybe you were impressed by the new design and features. It was the first iPhone to feature a near bezel-less OLED panel, Face ID, stainless steel chassis, and a stabilized telephoto lens. It was the first major redesign since the iPhone 6. Although the iPhone X was a well equipped flagship in 2017, one of its major drawbacks was that it was one of the first smartphones to reach that $1,000 price tag and many were shocked! Cameron Karr, a PHS Junior, comments: "Yeah, the new iPhones are pretty expensive."
Nowadays though, it seems that many new smartphones come with that $1,000 price tag. With screens becoming bigger and bigger and components becoming more powerful and complex, it's no wonder that smartphones are getting more and more pricey. But, who exactly makes these components?
Well, peek behind your iPhone (iPhone 7 and older), flip over your MacBook, look behind your Mac, remove your Apple Watch band (nearest the digital crown) and look, glance at the aluminium casing of your iPad, or inspect the back of your AirPods etc. In each of these products, you'll find the same phrase: Designed by Apple in California, Assembled in China.
Factories in China gather imported materials from all over the world, materials like steel, gold, glass, copper, iron, aluminium, and a plethora of different plastics. These factories take these materials and start to assemble the products. Many of the workers are assigned to complete one task when assembling the Apple products.
Dejian Zeng, an MPA student, went undercover as a worker in a Chinese iPhone factory. He recalls, "On the assembly line, we have about 200 people, and we produce 3,600 phones per day" His job was to fasten a single screw onto the speaker to the housing. "My station is called 'Station 26: Fasten speaker to housing'"… "I put one screw over the speaker and fasten it on the back case of [the] iPhone and that's the only work that I do. So for me, I probably put 1,800 screws per day."
This isn't just a practice done by Apple. Many other tech companies rely on China's workforce to assemble their products but the key difference is that Apple is based in the U.S. Why does it matter? Well for example, Apple's biggest competitor, Samsung, is based in Korea. Regulations in regards to trade with China differ between each country, which could give other companies an advantage.
As conflicts rise between us and China, a trade war could take place. This would mean higher taxes on imported goods. Not only that, but companies that are based in America might have to recall their factories in China. There could also be a prohibition of selling products to China.
This is a huge problem for Apple because China makes up about 20% of sales and the core reason for Apple's success is because of trading with China. Most Chinese companies have also been prohibited from selling in the US.
Do you know what Huawei is? Chances are, you probably don't. Huawei is a Chinese tech company that makes smartphones, laptops, computers, and smartwatches but the reason you haven't heard of them is because they are based in China. Many other Chinese tech companies can't sell in the U.S. because of these prohibitions. The same thing could happen to Apple with China which would definitely be a huge problem for Apple.
So what does this mean for all of us here? It means that iPhones and other Apple products could become even more expensive because they would have to be assembled here in the U.S. and because of a higher tax rate.