Kansas and Kansas State College Basketball Fight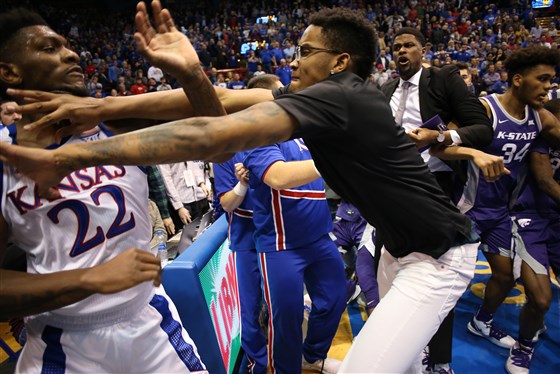 A basketball game between the 2 colleges in Kansas played earlier this month; the colleges were Kansas State University (KSU) and the University of Kansas (KU). In the game punches were thrown between 2 players of the opposite team.
The game between KS and KSU was intense at the 1ST half but then KU took the 2ND half by storm. The 1ST halfs score was 39-23. The final score was 81-60. KU won. KU's field goal percentage was pretty good. They went 30-65 (46.2%). KSU's field goal was 23-58 (39.7%)
KU took way more shots than KSU. Their 3pt percentage was around the same KSU went 8-22 (36.4%) and KU went 9-26 (34.6%). Now the free throw percentages. This is where KU really dominated them. KSU went 6-13 (46.2%) from the line and KU went 12-17 (70.6%) KSU might have been on their worst game that day. KU out-rebounded KSU by 9 rebounds (43-34).
During the game there were 2 players that threw punches at each other. The reason was because one of the players had gotten blocked, which caused him to get mad. One of the players that were involved with throwing punches was Silvio De Sousa. He punched the opposing team after he punched he grabbed a stool nearby and was ready to throw it. De Sousa was suspended for 12 games. The game officials tried their best to pull back the players that were going to fight but it wasn't very effective. The bench was involved with this brawl but De Sousa was the one that started it and was the main cause of the brawls escalation.
The one that started it all Silvio De Sousa got a 12 game suspension. James Love got a 8 game suspension, Antonio Gordon with 3 game suspension, and DaJuan Gordon got a 2 game suspension.  
Anthony Simmons, The qualified coach for KSU, gave his thoughts on the suspension: "I agree what the NCAA did and how they handled it maybe they could have handled it a bit better on both sides."
Social media was on fire as they posted about this fight because an event like this hasn't happened in college basketball history. Bruce Weber was asked in an interview about his feelings regarding the fight and he said that it was an embarrassment to both parties and they were both in the wrong. He also gave the statement that he didn't see the fight break out and he wasn't aware  that it was physical until later on.
The fight was an embarrassment for both teams and by what I've read, they wish a situation like this, will never happen again. De Sousa was given a pretty decent punishment for starting this whole mess and the other people involved  got minor game suspensions.