A "Mistake" That Never Should Have Been Dubbed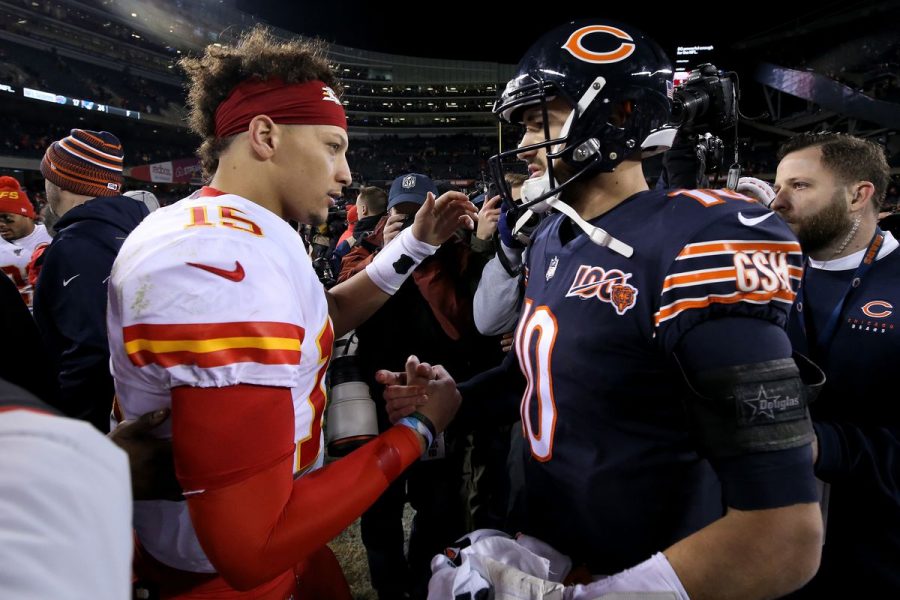 The 2017 NFL Draft has produced a lot of discussion about how good the talent coming out of that draft was, as there were 10 Pro Bowlers selected in the first round. One of them is notable for SOMEHOW making it to the Pro Bowl, Chicago Bears QB Mitchell Trubisky. He is considered the worst starting quarterback in the league and, as a Bears fan, it is hard to defend him. He was taken 2nd overall. Want to know who was taken  8 PICKS after him?
2x Pro Bowler, First Team All Pro, 2018 League MVP, Super Bowl Champion, the guy with a 10 year, 500 million dollar contract, best quarterback in the NFL and is destined to become the greatest QB of all time, Kansas City Chiefs' Patrick Mahomes.
Bears fans get clowned on A LOT for not selecting this guy in the draft. 
As a Bears fan, I agree with the Trubisky doubters, but I also disagree with them. Here are my reasons why I think drafting Trubisky over Mahomes was not that bad. Yes, Mahomes is an upgrade, but it is the parts that count. 
Part 1: Development
From 2013-2017, veteran Alex Smith was the quarterback of the Kansas City Chiefs, and as stated, the Chiefs drafted Mahomes to sit behind Smith. Smith established himself as a veteran leader, as he gave his success to former San Francisco 49ers QB and now free agent Colin Kaepernick before being traded to Kansas City. Smith was going to start and teach Mahomes before most likely heading onto a new franchise. 
For the one year they were together, Smith started the majority of the season and Mahomes was taught in camp, practice, etc. Mahomes got a chance to play the last game of the season and did well.
Now, if The Bears drafted Mahomes, Mahomes would have to sit by, I am not kidding, the worst quarterback depth of all time.
Mark Sanchez was infamously bad. He was only good at being a laughing stock of the NFL. He is a complete bust and joke. His backup was Mike Glennon, who "had potential" said every team that signed him and sucked. He is also another NFL meme. 
Part 2: The Receivers 
Mahomes and the Chiefs have put together a godly receiving core. Mahomes as a cannon arm and Tyreek Hill, his #1 receiver has speed. Which means Mahomes can chuck it up 50 yards and Hill can catch it. A 50 yard bomb to Hill basically won them a Super Bowl. The Bears receivers are not like that. Our number one target, Allen Robinson, is good but is slow, and that is basically our entire receiving core. We can win games but we cannot use Mahomes talent well if he can't really throw deep balls to win games.
Part 3: The Coaches
The Bears coach as of now is actually former Offensive Coordinator for the Chiefs, Matt Nagy. He is not the best coach out there, he is known for not calling plays well. The Chiefs coach is considered a top coach of all time, Andy Reid. He is known for being a genius in developing and play calling. See the difference?
Alright, yes, Trubisky is bad. Have you ever thought about the fact that we would not be that bad if we took another quarterback instead? 
I asked my sports-loving dad his thoughts on the article. He thinks that ¨Trubisky sucks,¨ which is understandable. But my cousin – 11 year old sports connoisseur – actually agrees with me on the article. He states that ¨Mahomes needs the system from Reid.¨
What do you all think?