Red School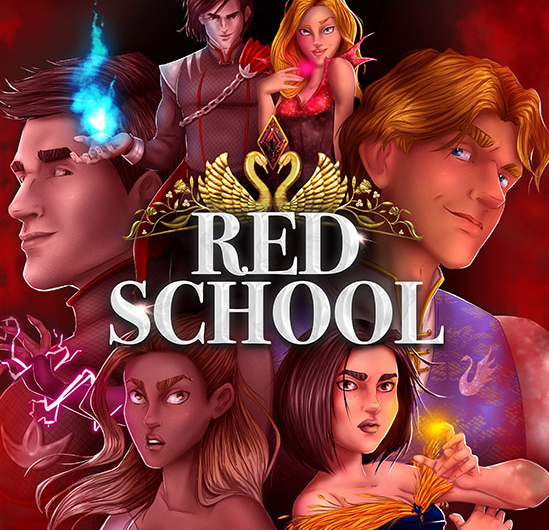 For fans of Red Queen and School for Good and Evil, the devastation of the series' endings are over! Well- sort of.
Authors Soman Chainani and Victoria Aveyard have recently announced their graphic novel crossover- Red School. Soman Chainani himself describes it as "a true crossover, where worlds meet and you get two amazing fantasy universes in one."
Both fandoms practically blew up at the first announcement, ordering copy after copy of the sure to be hit. Fans are already going wild on social media, causing the Red School website to crash after less than a week from the flood of orders and burst of activity. Now don't get me wrong, I'm as excited as the next fan. I just have one issue with the idea of this mega-crossover.
Red Queen is a YA fantasy novel, set in a world where people are divided by their red- or silver- blood. This book is one of rebellions, betrayal, and the politics of this fantasy world.
School for Good and Evil on the other hand is a fun middle grade fantasy book that takes place in the world of fairy tales where children can attend a school to train them in how to find their own fairy tale.
Both series are absolutely stunning and I have the utmost appreciation for both authors, having met both of them in person. Despite this, I can't help but worry that these stories are just too different to work well together. 
Sure, they are both fantasy novels, but they both just have such different tones and settings that I feel like a crossover might come off more as forced than anything else. I'm not even sure the fanbases cross that much, considering I don't know many people that have read both books. 
Even by looking at the cover of the graphic novel, you can tell the two stories are very different. The left side has the Red Queen characters who have a much darker color scheme in their clothing and just look more serious. The School for Good and Evil characters however, on the right side, are wearing bright clothes and it could be noticed that they seem a bit younger.
Chloe Hatchell, a Freshman at Pitman High School and fellow fan of both series, has a different perspective on this crossover. 
She says that "…the two stories have several similarities, both reds and evil students are looked down upon, they will interact quite nicely, seeing as the main characters have several similarities as well with their headstrong nature."
I do find some truth in this standpoint because both series do deal with the views and social statuses of the characters. Still, I just believe that Red Queen is much more serious and has such a different tone than The School for Good and Evil. 
I will say, it would have been much worse if the authors called this graphic novel canon (relevant and true to the series). The fact that it's non-canon let's me relax a little and just enjoy the fact that we will be getting more content to celebrate the last book in the School for Good and Evil series. Chloe agrees, commenting that she believes it will be very interesting.
The book is set to release on October 27 and I couldn't be more excited. I've already preordered the digital download and the signed copy and I'm counting down the days. Even though the idea on it's own seems shaky to me, I have faith in two of my favorite authors to construct something beautiful and please each and every fan.