Pitman High School Reopens for In-Person Learning
On Thursday March 18th of 2021, Turlock Unified School District sent out a notice saying that secondary education can begin reopening with Phase 2.  Phase 1 consists of two half days that students are able to return to, with Phase 2, students are able to return to school for two full days instead of half days. The district does allow students to continue distance learning if they like to, but now students have the option to do in-person learning.  Teachers had about 2 days to get their classroom ready for students to return and students had the same time to adapt to a new online schedule or in person schedule. 
For some people having schools reopen is great. A lot more kids are able to now get the help and mentorship that they need, especially for seniors before they go into college. 
For others, reopening schools might not be the best because of the status our world is in right now. Since most students and teachers in Stanislaus county have not received the vaccine yet and kids are gathered in crowded places, this might cause problems in terms of spreading the coronavirus.
 I decided to interview some of my peers, some who decided to do In-Person learning and some who chose to stay distance learning and what their thoughts are regarding how they feel about High Schools reopening.
Maryann Godje, a senior at Pitman who decided to do distance learning, shares her perspective: "Reopening High School definitely has its perks: getting students back in person and having longer class periods to name a couple. The way the students are split into Green and Silver groups made reopening more realistic. However, I feel like the schedule could have been a little bit better, like keeping Pridetime. Regardless, reopening was bound to happen, and as long as people are considerate and strict about the guidelines, I believe it was a good idea overall!"
Next I asked Gretta James, a senior in high school who decided to do In-Person Learning, shares her thoughts on the matter, "I think reopening the schools during a pandemic is really risky, science has shown time and time again that when a large group of people gather together, people contract covid, however, I do feel that our school is doing a good job so far enforcing masks and keeping people distant. As much as I would like for everyone to come back, I know that that it is not safe for the moment and we need to make sure we don't forget about keeping ourselves and others safe, no matter what."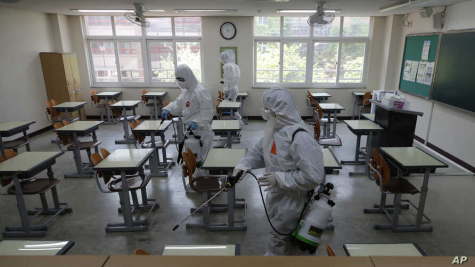 Janet Cardenas, A Senior at Pitman, shares her view: "Although this school year has been difficult for students and teachers, I personally think it would have been better continuing distance learning. Not everyone has received their vaccines, and risks of getting covid are still high. Not to mention the disturbance of everyone's schedule. We've been getting used to distance learning – and its schedule – all year, and the sudden change is a disturbance when it comes to learning."
Next, another senior from Pitman, Sofia Bones, shares her perspective, I'm excited that students have the opportunity to go back to school. For Seniors, like me, it's a chance to be on campus before the year ends. We get to talk to our friends, meet our teachers, and interact with other students in our classes."
Lastly, I asked Gisseli Aguilar, a Senior at Pitman, she shares her point of view: "I definitely thought it would have been a little bit longer till we came to school but I'm glad it opened up because I appreciate that I get to come to school two times a week it feels different but part of it feels normal and I think it's fun."
Even though there might be pros and cons to this matter of reopening schools in Stanislaus County, there are plenty of positives to reopening schools. Yes, we are in a pandemic, but our teachers are doing the best they can in teaching us how to succeed. Soon this pandemic will be over and we as a society will slowly get back to normal and  having schools reopen is one step closer to normality.