Graduation: How it's changed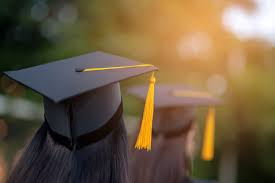 We've been counting down the days since the start of the year. Graduation. The end of high school, the end of our childhood, for some, the end of school all together. It's time to face the world. Become independent people, face challenges, overcome obstacles that come with being an adult, find out who we really are. The end of an era. It can be scary, I know for me and a few of my friends, we've been dreading this countdown. No more messing around, it's time to take things seriously. Graduation can be a scary thing, but it can also be one of the most exciting things to happen. Only a short amount of time till we are on the stage, walking, getting our diplomas handed to us
Over the past year, graduation has gone from being normal, to basically no graduation, to maybe a somewhat normal one. Last year, seniors didn't get the graduation they had been looking forward to. 12 years of school, all to not be able to graduate with friends. It was a very frustrating time for them as well as everyone else. This year is a little different with the faculty trying to make it as normal as they can in these weird times.
Graduation this year is split up into two different ceremonies. One at 4:30 and one at 7. Students were able to pick the times they wanted, but there were only limited spots in each, leading to some people not being able to graduate with friends. Overall, it is a lot better than last year. There are still going to be 6 tickets that you have to earn by going to practice on time each day. I asked a few people what they thought about this years graduation plan vs the one last year, this is what they said:
Damian Aranda (graduated last year): "I was really sad with how our graduation ended up last year because I was looking forward to having all my family and being with friends but it's good that they could help with that this year."
Julian Reyna (graduated last year): "I kind of liked how they did graduation last year because it didn't take as much time and felt more personal, but I get wanting to walk with friends."
I think that the school is doing a good job with giving the seniors a normal feeling of graduation this year. It gives us a feeling of satisfaction being able to walk and have our friends and families watch as we get our diplomas. It's an important point in life and deserves to be special.