Small Businesses at Pitman High
Recently the small business craze has skyrocketed, especially in younger age groups who have plenty of free time on their hands. Many teenagers have become entrepreneurs in order to fill their void and to make their own money by doing something they enjoy most. These small owned businesses all have a unique spark to them, with each business owner fabricating their products with love. Some specialize in designing jewelry, clothing, and custom shoes; whereas others concoct their own recipes for meals, sweets, and drinks. 
To promote themselves, businesses like these create Instagram accounts and websites where they post all of their products, prices, unlimited designs, deals, and usually mention how their ideas sprouted. When they first establish, business owners promote themselves by making a couple initial designs to give out for free so they can start off with a small following. Later on, small businesses usually collaborate with others in a giveaway in order to attract a broadened group of clientele in an enjoyable and free way. 
A great way to sell more products for these entrepreneurs is to attend small business pop-up events around surrounding towns, which are similar to farmers markets. At these pop-ups business owners have a high chance of marketing and selling most of the products they bring because of the crowds brought in by other businesses. 
In hopes of shining light on students around campus with their own side hustle, I interviewed many PHS students to lend a hand in promoting their entrepreneurial ideas. With a total of 8 students, there is definitely a blend of creative ideas. 
Luke Adam (12th) owns a line of comfortable active wear tailored to all. Luke Crawford (10th), and his business partner/brother Dominic Crawford (9th), sell handmade wood signs. Adrian Franco (11th) manages his own clothing brand that has a streetwear twist. Angel Magana (11th) has his own barber business carried out in his front yard catered to whoever's in need of a fresh cut. Giselle Miranda (12th) started off with jewelry related to scoliosis designs and has now ventured into crewnecks and other custom jewelry. Adelin Partridge (10th) runs an at-home bakery where customers are able to ask for different flavored or designed sweets. Lastly, Yadhira Zendejas (12th) creatively paints nails and does lashes. 
Luke Adam- Clothing 
Luke is initiating his own active clothing line under the name "Wibes Apparel," which he'd soon like to switch to  "RC," meaning Royalty and Comfort. 
When asked why he wanted to start a business, Adam said:
"To keep myself busy, have more income coming in apart from my regular job, to provide quality clothing for others, and inspire others to be themselves through what they wear." 
Much like his inspiration Nike, Adam makes it clear that his clothing is centered around being comfortable, yet fashionable and enjoyable for his customers. 
Many students might fear that starting their own business might interfere too much with their schoolwork and overall social life; however, Luke Adam believes that working while in school "boosts his responsibility and makes it easier to advertise amongst his peers." 
At school he is able to have a more adverse reaction by sponsoring his products around campus, than he does at home where nobody gets to actually view them in person. In reality, the correlation between his business and school began when he started developing higher responsibility traits and focused on appropriately managing his finances instead of slacking off like many teenagers.
Even as a small business, the struggles to keep them going still stand. With the competition of well-known brands, and the lack of free advertisement it could be quite easy to distract you from your dreams. Amidst the challenges, Luke Adam aspires to have his business reach the same level of popularity as Nike. 
Although there's a long way to go and it'll be a hard journey "[He] hopes to stay persistent and pass each company one at a time to eventually be a big company." 
Taking in consideration all he's been through and put in to make Wibes Apparel work, he would still encourage others to start a small business of their own. 
He ensures that, "It keeps you busy, and you'll definitely have fun with it if it's the hobby you like. The most important thing is to not be a slave to your business, so make sure that the time and effort you put into it is worthwhile and enjoyable." 
Please check him out @wibesapparel on Instagram! Shirts will be around $25 each including free shipping, or 2 for $40. For every shirt bought there will be a dollar donated to a charity or Salvation Army. 
Dominic and Luke Crawford- Wood Signs 
Next up are the Crawford brothers who specialize in woodworking. 
When Luke Crawford, Sophomore, was asked the following question:
 "How did you come up with your business idea?"
Crawford responded with, "During Covid we didn't have anything to do so we started woodworking, and then we started to build more stuff which ended up turning into a business because people wanted to buy our products." 
Between the high demand, the entertainment woodworking brought him, and the extra income, he and his brother decided to take it a step further with marketing. Just as Luke Adam had brought up, I personally believe it's a great experience for youth to be able to combine work and play through their hobbies. In the same way, The Crawford brothers are able to sell products by using their woodworking skills that they thoroughly enjoy.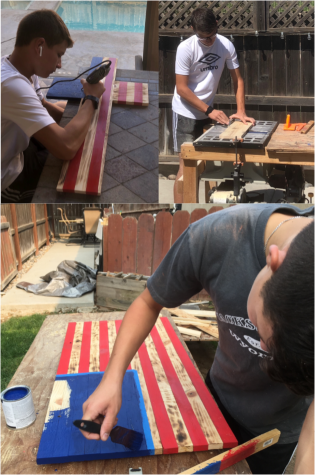 I then followed up with, "How do you manage to handle your business now that we're in school? Would you say that it was easier in quarantine?"
Crawford mentions that he manages his schedule by "mostly working on the weekends and sometimes after school. I don't have as much time but I still am able to complete most projects. It was definitely easier in quarantine because I had more free time to focus on the orders." 
Commonly, most of the interviewees answered that it was way easier to continue their business because they had a lot more time on their hands. Nonetheless, it's good to hear that they all have adapted to their school schedule. 
Their woodworking business is mainly catered towards American flag designs, including blue and red lines, and crosses. Other than that, they are able to complete custom orders and any previous designs they've done. 
Crawford states that "I gain my inspiration through online designs that are trending and special orders will inspire me too."
A design that he mentioned that is out of his norm is a "wooden flag with a hidden compartment" that he could definitely continue making. This product is one he was really intrigued by and thinks others might be interested in as well. 
He also suggests that "others should definitely start their own business because it teaches responsibility and it's an opportunity to make money, so I think it's a good idea." Just as Luke Adam had mentioned, it builds your maturity and prepares you for the future.
If you know someone interested in wood designs, Luke and Dominic Crawford make most sales through word of mouth, and you can find their products at Downtown Turlock at the store Farmhouse. If you have any special order questions you can contact either one of them!
Adrian Franco – Clothing 
Franco runs his online clothing store, known as Deadxhill, which incorporates trending skate and streetwear styles. 
When asked the same questions, "How did you come up with your business idea? And, why did you want to start a business?"Adrian Franco answered:
"I came up with my business idea during quarantine. I was watching a lot of shoe and clothing videos in my freetime and those videos ended up inspiring me to make a clothing brand myself. I was interested in starting a business because I wanted to express my creativity by making shirts and other clothing items that I thought people would like."
As explained, Franco's main purpose is to bring to the table a new and eye capturing style to teens through designs he enjoys.  
He manages his time between school and work by "putting school first and dedicating [himself] to making new designs in [his] free time."
Most importantly, his business is able to run successfully because he makes sure his school work is completed and out of the way before beginning a work related project.
He creatively came up with all his own designs, hoping that other teens would be attracted to the clothing just as he was. 
Adrian answered differently to the question "Would you encourage others to start a small business of their own?" by saying:
"Yes I would especially if it's your dream because you'll never know if you'll make it if you don't try."
His response truly inspired me and opened my eyes to the variety of businesses anyone could open to pursue their dreams through any sort of hobby. 
On Instagram his business is found @deadxhill where you can DM him at any time with your order!
Angel Magana – Barber 
Working under the business name "High End Fadez," Angel Magana has been styling hair for the past 6 months.
He explains that "the business came to light when I realized I wanted a job where I was able to work my own hours. I felt like it was time for me to make my own money, so why not start now that I have the time on my hands." 
This correlated to my following question: "How do you manage your time between work and school? Was it easier to follow through with work during Covid-19?" 
As many others, Magana answered with "making sure I have an agenda set on my phone, that way I can book my appointments throughout the school day. Using the calendar on my phone helps me stay organized and keep it all sorted in my mind. And during quarantine I had a lot more time where I was able to cut hair all day." 
Thus, a small business becomes an advantage as it brings in money as well as keeps you preoccupied and entertained. Many people would consider it as "playing" since your hobby never takes a true toll on you the way a job does. 
Angel Magana "would encourage others to start their own business because it sets you up for everything. Not only now by helping you out with money, but also time management, keeping track of your finances, and build responsibility"
If you're in need of a good barber, check out Angel Magana's business on Instagram @Highendfadez_. He also made his own logo, stickers, business cars, and t-shirts related to his business!
Giselle Miranda – Jewelry & Custom Clothing 
Giselle Miranda started her business with the aim of "giving back to the hospital where she had her scoliosis surgery and appointments."
After finally overcoming everything she's been through, Miranda decided returning the favor and raising money for the hospital was something she'd love to accomplish. Many others start small businesses that have products related to the cause that they are raising money for, in hopes of supporting other families that aren't able to afford their procedures. The money can also go towards the business owners' own surgeries, or even just to the hospital for the huge impacts they made on the survivors' lives. 
I asked her the same question, "How do you manage your time now that we're in school? Would you say it was easier to run your business during quarantine?" 
She stated, "when I started it was during quarantine, but now with school I just start on my orders whenever I have freetime or when my schoolwork is all finished. During quarantine/Zoom I had way more freetime where I was able to do a lot, so it's definitely a bit harder now."
Miranda usually offers seasonal or trendy designs for her embroidered crewnecks and jewelry. She also sells cups, mugs, and other sweet gifts for significant others or loved ones! Over the summer she had a clothing drop, including adorable tops, dresses, and skirts. 
Tying into the seasonal offers, she mentioned her fall and halloween designs are coming up, so be ready!
Miranda thinks that, "In today's world everyone pushes you towards college, but you never know – businesses like these could really take off. If you have an idea just go for it, you'll never know until you do it." 
If you're interested in adding to your comfy fall closet, check out Giselle Miranda's business @Perfectlyimperfect_co on Instagram where you can find all her custom orders and prices!
Adelin Partridge – Homemade Baked Goods 
Adelin Partridge has always had her heart set on opening her own bakery once she's older, so she took initiative on opening her own bakery at home. By starting while in high school, it gives her the experience she'll need for wherever the future takes her in the baking world. This exposure also gives her time to come up with and perfect many different recipes of her own. 
Partridge expressed that "[she is] still waiting on a food license and on an inspector for the area we'll use to bake, but it's a lot easier now that I have my loved ones that support me and partners that assist in the baking process."  
Of course in businesses that require certain licenses, there may be rising difficulties in getting started and accepted to commence your business. As Adelin has run into her licensing issues it has put a small hold on actually starting to sell; however, it hasn't deterred her from going through with her dreams. 
Adeline Partridge mentioned that "A huge inspiration of mine was my mom. She always comes up with her own delicious recipes that I love."
As you can tell, having family support and loved ones that are willing to invest in your business to help you grow is key to success. With such young entrepreneurs, having a way to fund your first few products and your equipment needed is always something you'll need when starting projects. Fortunately, Partridge is able to find that through her mother who also encourages and helps her with her baking because she is skilled at it too. 
To answer my most important question, "Would you encourage others to start a small business of their own?" 
Adeline said, "I think I would because making your own business gives you the ability to build your responsibility and helps you look into what you want for your future. It definitely makes me feel fulfilled too because I love baking and sharing my food with people." 
You can find her bakery on Instagram and Facebook @Berriybakery where she's recently posted their prices and previous sweets! You can also make an order in person if you see her around campus.
Yadhira Zendejas – Eyelashes 
Last but not least, Yadhira Zendejas focuses on strip lashes, lash extensions, and painting nails. 
Much like Miss Partridge, Zendejas was widely influenced by her mom since she frequently gets her nails and lashes done. "My mom thought it would be a great idea if I started doing it myself, she actually taught me how to do nails" she explains. 
Like I said for Adelin Partridge, it is always helpful when you have someone constantly supporting you and having your back, especially when you feel like your parents believe in you. An extra feeling of support and helping hand always goes along way with success. 
When asked "Why did you want to start a business?" Zendejas responded with, "A lot of kids were into clubs and other school activities and I wasn't, so I kind of felt like I didn't have a place. I thought starting a business could encourage me." 
Again, relating her interview to Adelin Partridge, the act of doing something you enjoy and being busy instead of having a large amount of freetime creates a fulfillment for most people. Instead of pushing herself to join clubs and sports that would just be another inconvenient weight on her shoulders, she started something completely new that she knew she'd enjoy. 
To manage her time properly, Yadhira Zendejas has her parents as a great support system. Which she thinks "takes a lot of stress off [her] shoulders. She also mentioned that, "it was pretty stressful during Covid because you had to be conscious about sanitizing and I couldn't have as high of a client intake daily because of restrictions." 
Surprisingly, Zendejas was the second person to say that transitioning into quarantine wasn't an advantage to her business, so it was nice to finally be back to her old schedule and routine. 
Yadhira emphasized her thoughts on owning a small business by stating: "I would definitely encourage others to start their own business because it's fun, and obviously stressful at times, but it puts your creativity to a whole different level. Even though some people are shy, I would still encourage them to start something because you never know where it could take you."
I followed up with "Do you think this experience made you more responsible and prepared for the future?" to which she said: 
"Most definitely because I did not take anything this serious before, I always thought I had my whole life ahead of me, but it made me realize that I needed to really think about what I want in life starting now." 
If you're in search of a nail artist or for some new lashes hit her up @lashess.nailss.co on Instagram!
As you can tell, small businesses are booming even throughout younger age groups. Through their companies, these students have built up higher responsibility tolerances, are able to organize their finances, and fill their freetime with something they thoroughly enjoy. From food to clothing to hair cuts and nails, these small businesses can cover all your necessities.  Hopefully you're able to support these entrepreneurial teens around campus as they pursue their dreams through selling their creatively made products!