November: The Middle Child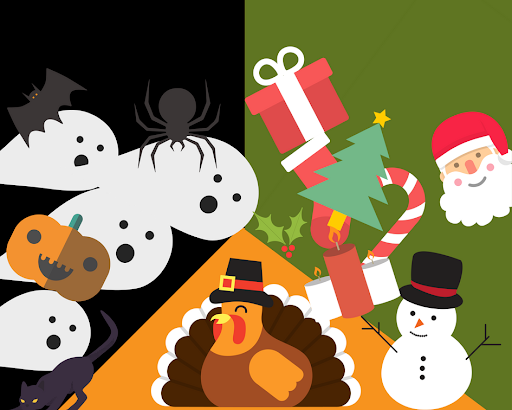 November is rolling around and people are already rushing to get ready for the upcoming holidays. The stir of excitement is understandable with the circumstances that everyone has been living in for the past year, but most of it isn't actually for November events; Christmas fever is making its annual appearance.
Hysterically, November prompts Americans to feel thankful for the blessings in their lives, yet most view it as a transition period in between the "major" holidays. As all the pieces begin aligning, it's becoming more apparent that November has been struck by the middle child syndrome.
The month of November is marked for its national holidays that raise awareness. In fact, the most well-known holidays that fall in November celebrate family and honoring others, which include: the Day of the Dead, Veteran's Day, and Thanksgiving. Ironically, a majority of the population tends to give the least attention to November in comparison to October and December.
To gain perspective on the matter, Olivia Cunha, an 11th grader at Pitman High School, was asked: "Do you believe that 'November is the middle child' is an exaggerated statement? Why or why not?" Cunha responded by saying, "I don't think it is because people skip from Halloween and straight to Christmas, forgetting all about Thanksgiving. But, I believe Thanksgiving is still important, even though others look past it."
Nowadays, people are urgently taking out their Christmas decor boxes that have been stored in their closet, devoted to the festive ribbons and flashy wreaths, right after the Halloween craze has dialed down. The preparation done for Christmas sharply differs from the efforts made to embrace the Thanksgiving season. In most homes, the fanciest decoration for November is probably the peculiar hand turkey drawing displayed on the front of the fridge. See the difference?
During an interview with Chloe De la Torre, a Pitman High School junior, she was asked: "Are you the type of person that immediately decorates for the winter holidays once Halloween is over? Why or why not?" De la Torre replied, "You know it! I mean, it's fun and comforting to do. Putting up decorations just really boosts the holiday spirit."
It's not only families that are eager to start Christmas early, but retail stores are maintaining this spirit as well. Perhaps a couple of years ago, you may have been startled by the chunk of the store dedicated to Christmas items while walking on your way to purchase a box of cereal. Now, stores advertising their products acts as a reminder that Christmas is coming soon and encourages shoppers to stock up on holiday merchandise. No wonder the events during November are often forgotten!
Clearly, the month of November needs a bit more appreciation from Halloween and Christmas fanatics. Although checking off "Christmas decorations" from the to-do list can be satisfying, hanging stockings and decking the halls disregards the Thanksgiving holiday.
It's safe to say that November is facing "middle child" treatment for now. Hopefully, this is just a one year temporary phase. Since there are no promises, why don't we do something about it now? Let's pause Mariah Carey's "All I Want For Christmas Is You" and just take a second to cherish what November has to offer!