Movies Coming in 2022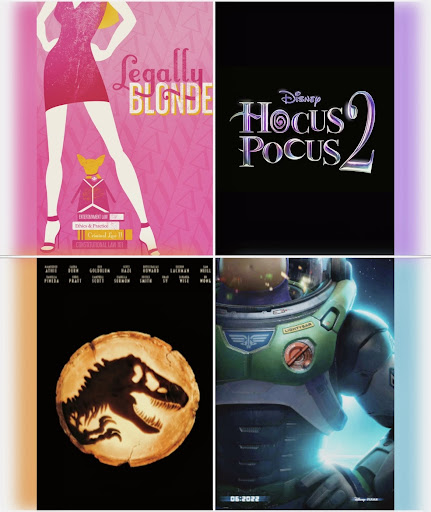 The year of 2022 is already setting a promising timeline ahead with a list of new movie releases. After witnessing how the COVID-19 pandemic took a massive toll on our communities, there is an imperative need for relaxation and relieving tension. With this list of the most anticipated movies coming in 2022, everyone can have something to look forward to throughout the year.
We can finally begin counting down the days for the following installment in the Legally Blonde franchise, Legally Blonde 3, which will be released in 2022. Our iconic fashionista, Elle Woods, is coming back with another lighthearted journey to follow. Although the storyline has not been revealed, fans are pumped to see Ms. Woods learn to break through stereotypes once again. The film's confirmed release date is May 2oth, so make sure you practice your "bend and snap" before it hits the theaters!
Jurassic World: Dominion is another upcoming movie playing in theaters in 2022. This film will complete the Jurassic World trilogy and gather the Jurassic fandom one last time to see another dinosaur adventure with Owen and Claire, starred by none other than Chris Pratt and Bryce Howard. Insiders have confirmed that the movie takes place 4 years following the unresolved conflicts in Jurassic World: Fallen Kingdom, thus it may be best if newcomers watch the rest of the franchise prior to the initial release date— June 10th, 2022.
While interviewing Emma Watson, a Pitman 11th grade student, about new films coming in 2022, she was asked: 
"What is your favorite movie genre?" 
Watson answered: 
"My favorite movie genre is action because they are often filled with numerous conflicts that are entertaining to watch the characters solve. It is also mind blowing to see how the technology and choreography make the brilliant visuals."
If you love feeling the rush of adrenaline from action movies, Jurassic World films are just for you; they never fail to impress viewers and always bring action and science-fiction to the next level every time. 
One of the most long-awaited movie releases in 2022 is Lightyear, a collaborative production by Walt Disney Studios and Pixar Animation Studios. The new animated film features the origin story of a real-life Buzz Lightyear, inspired by the fictional spaceman action figure that appears in the Toy Story universe. Playing in theaters on June 17, Lightyear is predicted to be the top film of 2022!
More of the Disney magical world will return with the new sequel Hocus Pocus 2, arriving in the fall of 2022. According to outside sources, the cast of the lead roles from the original comedy film Hocus Pocus— Bette Midler, Kathy Najimy, and Sarah Parker— is officially returning to the screen for Hocus Pocus 2. The Sanderson sisters will definitely be back for new mischief, so don't miss it on Disney Plus! 
During a brief interview with Evelyn Perry, a fellow Pitman High School junior, Perry was asked: 
"What 2022 movie are you most excited to watch this year? Why this movie in particular?"
Perry replied,
 "I can't wait for Hocus Pocus 2 because it's my mom's and my favorite Halloween film. Ever since I heard there was going to be a second Hocus Pocus, we've been super excited to watch it!"
In order to gain further insight on which movies people are interested to watch this year, Watson was asked the same question and she responded with: 
"I think I'm most excited to watch Uncharted, with Mark Wahlberg and Tom Holland, because it follows the storyline of one of my favorite video games."
Well, there you have it—a variety of movies to keep you eager throughout 2022. Even though these are just some of the movies being released in 2022, now you know what projects to expect as we emerge into this year!