K-pop and the Conversation about Xenophobia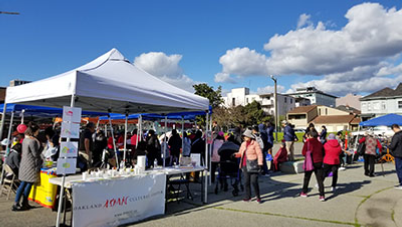 K-pop has risen in popularity with a combination of intricately choreographed routines, aesthetically pleasing outfits, an energetic melody, and a unique acknowledgement of their fans. What's more, songs often cater to English speaking audiences with hooks that are often in English. With a combination of these factors, a large fanbase has developed in countries such as the US and Australia. The members, referred to as 'idols,' cultivate their fan base through personalized interactions and messages of the importance of positivity and the validation of struggles with self-love and depression. 
However, not everyone is content with the recent success of this Korean pop genre, which is more than okay. Everyone has their preferences in terms of music. The problem is that some of the most prominent comments critiquing them are thinly veiled or outright xenophobia. On MTV Unplugged in Germany, a commenter on the show claimed that BTS, among the most popular of K-pop septets, should be eradicated with a vaccine like COVID-19.  This comparison alone prompts one to think about the reality of the corona virus and the rise in Asian hate. 
On The Howard Stern Show, Stern claimed, "There's no way they don't have the Coronavirus."
Stern would try to justify his actions, explaining the "context" of his racist remark. 
"'I walked into the lobby and it was like Chinatown, out of control, there were so many Asian people. These people are traveling, they're not locals, they're going from country to country to country. It's a dangerous situation. You got to look at it that way — they're on airplanes; they're in hotels."
The dangers of crowded spaces are one thing, but there were so many Asian people? They're going from country to country to country? One could say the same for the streets of New York or the hazardous practices of other artists on tour. However, it seems a spotlight does not highlight these said artists. 
BTS is not the only K-pop group to experience xenophobia, NCT, another popular K-pop group was nominated for the "top social artist," an award that purely focuses on the popularity of the artists and dwarfs their talents. This seems to be common as K-pop groups who have been recognized in the US receive recognition for their rise in popularity, but not their work.
Discrimination doesn't stop at K-pop groups, infact Asian American hate crimes rose 120% in 2020 alone. 
Anna Dao, a junior at Pitman High School
What was your first impression of K-pop?
"My first impression was negative because I was fetishized for my race when it was gaining popularity. I became less of a friend and more of a spectacle. Something they started to view as 'exotic.'"
So what does one who is not of Asian descent do to stop Asian hate? First and foremost, educate yourself on the discrimination Asian individuals often face and perhaps even uncover our own prejudices. If you have the funds, donating to the AAJC (Asian Americans Justice Center) who serve as advocates and provide legal representation for Asian Americans and Pacific Islanders, is a viable option. Donations to the AAJC are also tax deductible. A solution closer to home is the Oakland Chinatown Coalition, a volunteer-based safety program. If you witness an Asian American hate crime, it can be reported to Stop AAPI Hate or Stand Against Hatred. Statistics from both organizations are used for visibility and educational purposes. If someone is in danger and you are not comfortable getting involved, dial 911.