Swim Team's First Meet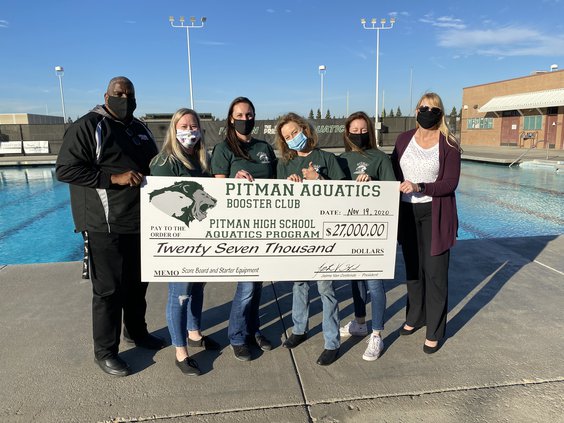 With spring sports finally kicking off, it is about time we report on them. Today's focus, the swim team.
Pitman's swim team had their first meet on Friday, a practice meet against Hilmar High School. Over half of the Pitman's boys team was gone to church camp, meaning that not one boy was swimming less than 4 events. Some even swam for multiple teams in the same relay. Freshman Mark Valgos (me) had 5 events, including the 200 medley relay, 200 IM, 500 free (individual), 200 freestyle relay, and 400 freestyle relay. Freshman Cristian A. Perez swam six events, including all of the relays, some freestyle, some backstroke and some butterfly. Overall, we had a lot of swimming to do. Being that Hilmar only had a varsity boys team, everybody on the Pitman team swam varsity, even JV boys. This meant that they didn't win very many events, except for those which their three true varsity swimmers (Rick Vanderveen, Nathan Screen, Lucas Yotsuya) swam in. They are the only boys above their sophomore year on the varsity team. 
On the girls side Pitman fared well. With many events where Pitman was the only team swimming, they took quite a few wins. However that isn't to take away from the more attended events, where they took a few wins and a few close seconds. Although there was no official scorekeeping, it was obvious that Pitman's girls did very well.
In the end, it was a very fun day and one to be remembered. Since it was only a practice meet, this did not count toward the CCAL championship or league titles. Luckily now the team knows exactly what they need to work on, and everybody now knows what events they will be swimming in the future, which is the most important part. The team also requests that people attend the swim meets, as the more people that attend the better they tend to swim (we are a competitive, show-off group). Feel free to attend any of our future home swim meets, or even our away ones, such as this Friday at Enoch High School in Modesto.