Autumn Dessert Ideas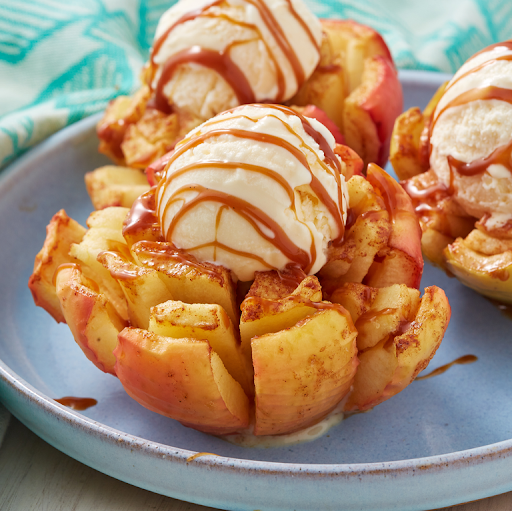 Autumn is the season of sweaters, beautiful brown, red, orange, and yellow leaves, and is overall a very cozy season that's perfect for baking. There are plenty of fall baked goods everybody knows of, like pumpkin, apple, and pecan pies, but here are a few more unique ideas to spice up your autumn baking. 
With all the leftover pumpkin pie you'll be having, a perfect recipe to make is Pumpkin Pie S'mores, and all you need is your pumpkin pie, 10 graham crackers, 1 bar of Hershey's chocolate, 5 marshmallows, and some caramel drizzle. This recipe will give you 5 s'mores. The first step to making your Pumpkin Pie S'mores is to cut your pie into graham cracker-sized pieces. The next thing you want to do is roast your marshmallows, the way you roast them is up to you. You can roast them over a fire, in a microwave, or on the stove. 
After your marshmallow is roasted, you will want to place down one of your graham cracker squares, then place your pumpkin pie square on top, followed by some of the Hershey's chocolate, your marshmallow, and finally a second graham cracker square. To top it all off, drizzle with caramel and enjoy! 
Another fun fall dessert you can make is the Bloomin' Apple, a twist on the popular Bloomin' Onion. The ingredients you will need are cooking spray, 4 tbsp melted butter, 1 tbsp packed brown sugar, 1 tbsp granulated sugar, ½ tsp ground cinnamon, 4 apples, 8 chewy caramel squares, vanilla ice cream, and caramel for drizzling. Bloomin' Apples can be made in either an oven or a deep fryer. This recipe will give you 4 Bloomin' Apples.'
The first step to making Bloomin' Apples is to whisk together your cinnamon, butter, and sugars in a small bowl. The second step is to slice off the top of each of your apples, then take a melon baller or a teaspoon and scoop out the core. Using a paring knife, cut two circles around the top of your apple, then turn your apple over, with the top face down, and slice crosswise into your apple, be careful not to cut all the way through the apple or through the core. The third step is to fill each apple with two caramel squares, then brush your butter mixture on top. 
For the oven you want to preheat it to 375°, then you will place your apples into a small baking dish and bake until your apples are tender, about 30 minutes. For the air fryer, you will place your apples into the basket and bake at 350° for 15-20 minutes. Place your ice cream and caramel drizzle on top and enjoy! 
The third recipe is Pumpkin Cheesecake Bites, this recipe makes 19. The ingredients you will need for this recipe are 1 cup crushed ginger snaps, ¾ cups crushed graham crackers, 4oz of softened cream cheese, ½ cup pumpkin puree, 1 tsp pumpkin spice, a pinch of Kosher salt, 1 tbsp of coconut oil, and 2 and ½ cups melted white chocolate, divided. 
The first step is to line a large baking sheet with parchment paper. Then, in a small bowl, you'll want to mix together your crushed ginger snaps and crushed graham crackers, make sure to set aside 2 tbsp for topping. In a large bowl, beat your cream cheese until it's light and fluffy, then add ½ cup of melted white chocolate, your pumpkin puree, pumpkin pie spice, and salt. Beat until incorporated, then mix in the remainder of your gingersnap and graham cracker mixture. Scoop your mixture into tablespoon sized balls and freeze until solid, around 40 minutes. Roll the chilled balls around in your palms until the edges are smooth, then chill for an additional 5 minutes. 
Mix together your remaining two cups of white chocolate with your coconut oil. After the balls are done chilling, take them out and dip them into the white chocolate mixture to coat them. Place them back on the cookie sheet, sprinkle on your remaining gingersnap and graham crackers crumbs. Refrigerate for 1 hour, then enjoy!
I decided to interview my dad, Brian Bumpus, about these recipes because we like to bake together around holidays. The first question I asked him was which recipe he would most like to try. 
His response was, "probably pumpkin cheesecake bites."
The second question I asked him was, "Which one of these recipes do you think would be the easiest to make?"
"Pumpkin Pie S'mores."
I asked him why he thought Pumpkin Pie S'mores would be the easiest to make.
He said, "There's not really much cooking involved, it's mostly just assembling."
I also asked him, "Do you think the Bloomin' Apples would be better baked or air fried?"
"Baked"
"Why?" 
"Because it's the tried and true classic cooking method, also I've never used an air fryer."
I personally think all of these recipes would be delicious, I'm most excited to try the Bloomin' Apples. I'm sure these recipes will spice up your autumn baking and be a favorite at your Thanksgiving dinners this coming Novemer!