The King of Toxic Masculinity: Andrew Tate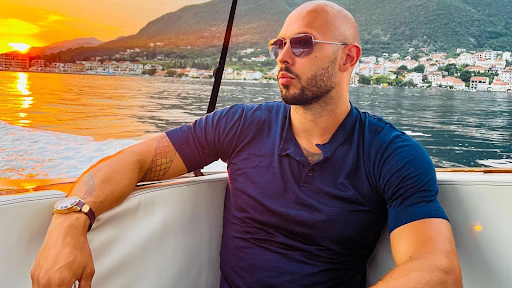 Internet personality, Andrew Tate, gained his Tik Tok fame rapidly after videos of him were released of him claiming that women are "man's property" and that men should undoubtedly deserve authority over the women they date or are married to. Tate believes in bringing back "masculine men" and "putting women in their place".
Emory Andrew Tate lll was born on December 14th, 1986 in Washington, D.C., but soon moved to England at the age of 4. He was raised in an estate in Luton , a small town in South East England. 
His father, Emory Tate, was an international chess player and taught Andrew to play at the age of five. His mother, Eileen Tate, was a stay at home mother to attend to the Tate Brothers and sister. This sparked Tate's normalization of the idea of women being housewives.
Before Andrew Tate's recent rise to fame via social media, he had a successful career in kickboxing. He is a four-time kickboxing champion. His professional kickboxing record stands at 43-9.
Tate has a total of six kickboxing titles and claims the most he's ever made from a fight was one hundred thousand. He retired from the combat sport at the age of 28 in 2016.
After Andrew Tate's kickboxing career, he started offering online paid courses and memberships through his website to the public, targeting boys as young as 13. He likes to call this 'Hustlers University' where boys are taught how to "pull girls" and how to use 18 cutting edge wealth creation strategies to get rich online. His website has been proven to be a Multi-Level marketing scheme. 
As a result of his downfall in website marketing, Tate earned most of his money via influencer marketing (making money through social media). He gained most of his recognition through social media such as TikTok and Instagram. Videos of him are fan posts of him being openly misogynistic and vile towards women. 
One of his more popular quotes states him saying, "You can't be responsible for a dog if it doesn't obey." This implies that men should have the authority over women and him comparing women to dogs. Tate believes that men can cheat on women as long as it is solely platonic and has no meaning. He believes intercourse is just exercise.
I interviewed Turlock High 10th grader, Ferris Quijada, on the subject and asked,
"Do you believe Andrew Tate is a positive role model for young men in this generation? Can you explain your reasoning?"
He responded with,
"I believe that Tate is not a good role model for young men and is even in fact influencing a very negative view on the women in our society and lives. Respect should be the bare minimum. " 
I followed up with,
"How do you think his mass following of young men is affecting their lifestyle?"
He replied,
"Andrew Tate's strong opinions are ruining the way young guys like me should be thinking about women. He's teaching us that women are objects and can be used as we please which is NOT what I agree with at all and just shouldn't be happening. This mindset is just sending us back to the 1800's."
Andrew Tate, or as his fans like to call him, the King of Toxic Masculinity, is single-handedly setting this generation back 100 years. For reasons such as dehumanizing women to taking advantage of young men's minds, Tate is someone whose platform should be revoked.