Homecoming Nominees 2022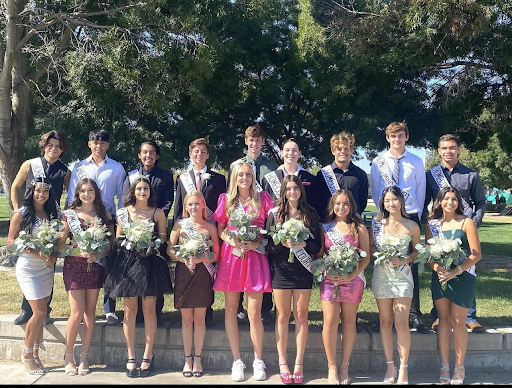 This year's homecoming King is Joey Stout, Queen is Brionna Bass, Prince is Grant Vilhauer and Princess is Kaylee Nguyen. But let's do a recap of this week! The names of all the nominees are Annika Reich & Russell Olvera; Brionna Bass & Alex Medina; Jesenia Miranda & Ivan Martinez; Kaylee Nguyen & Dylan Freeman; Lauren Hamilton & Grant Vilhauer; Miranda Jimenez & Jonathan Rocha; and lastly Reese Carmona and Sydney Lloyd.
I asked a few nominees, "How do you feel about getting nominated for this year's homecoming? Here is what they have to say:
Alex Medina- "Although it seems not important. I am really happy because this is like the typical American high school dream and my mom came to this country when she was 16 and she dreamed of the American dream and I'm glad I got to live it for her!"
Kaylee Nguyen – "I think it is a really cool opportunity and my friends are supportive. I never expected this and this being my senior year, getting nominated is like a cherry on top.
Ivan Martinez- "I feel fantastic. I never thought this would happen!"
Joey Stout- "It makes me happy that people recognized me and picked me without being on the form. I knew people knew me but I didn't think they pick me"
Brionna Bass- "I feel honored because I know a lot don't get this chance, and I feel like it's a good way to reflect. It's good to know people see me as a fit for this role.
Sydney Lloyd- "I'm excited, and because I know people don't like me I was surprised when I got picked because this is only my second year at pitman."
Gabe Padilla- "I feel more outgoing than usual and I feel more connected with the school."
Tianna Karr- "I think it's exciting because people got to pick me and recognize the work I do on campus.
This year's rally and parade were both very exciting! During the rally the cheerleaders were amazing and did so good! The color guards also did a great job with their routine. And last but not least, the band also sounded really good and I feel like we had more energy this year!