Introducing the Underclassman ASB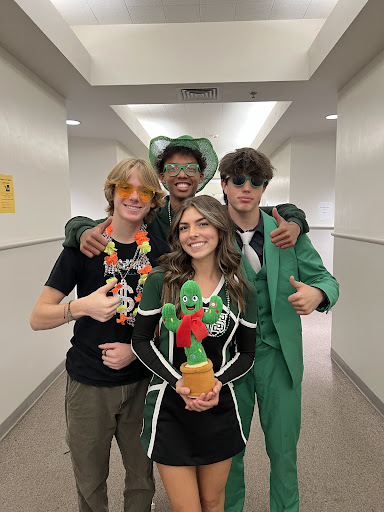 As the new year begins, Pitman welcomes their new class of ASB! With a new year comes some new faces…specially for freshmen class. 
Introducing Freshman class President and Vice President: Cole Martin and Everette Partridge. Both Martin and Partridge were asked about their plans for the freshman class and what they hope to achieve this year as President and Vice President. Martin said, "I want to bring back school spirit, since it has been lagging ever since Covid hit. I want to incorporate fun and better dress-up weeks." On the other hand, Partridge plans to "bring back lost pride." When asked why he claims that the pride at Pitman is lost, he said, "There is no cheering and only ASB kids truly participate in football games or other activities around school. I want to bring all the hype possible!" In addition, Partridge also hopes to "bring more pizazz this year" and "have more fun lunch activities every month." Seems like it is looking up for the freshman class this year! We will be anticipating all the fun events that Martin and Partridge are planning for us! 
Later in the interview, Partridge was asked about his inspiration behind why he joined the ASB. He simply said, "Grant Day." When asked to elaborate, Partridge said that he wanted to work with him, support him, and plan activities together. Martin was asked the same question and this is what he had to say: "My health teacher Mrs. Oleson and school President, Marc Ouse."
Nice to hear some thoughts from our Freshmen ASB members! Now moving on to the Sophomore class ASB President and VP. Grant Day and Ashlyn Moniz were both asked the same question: What do you hope to achieve this year when it comes to school as President and VP? In a nutshell, this is what Day had to say: "A greater school environment." While Moniz responded with, "Make the best activities! I plan to go all out all the time! Especially the Homecoming float! I am excited for people to finally see it. I want to make everything fun, but at the same time not repetitive. Overall, we want students to have a voice and say in what we do." 
What a great way to start the year! With Presidents and Vice Presidents feeling ever so into the spirit, everyone is bound to have a great year! 
Out of curiosity, I asked Moniz why she didn't run for president, and this is what she had to say: "I wanted to! I wanted to run for president but after a discussion with Grant, it turned out he also wanted to run for president. So he told me that I should run for VP instead and eventually we came to a conclusion and an agreement." Further into the interview, Moniz was asked about her inspiration behind joining ASB, and she said, "I was in the middle school ASB, and I wanted to run last year, but I got Covid, so I took my chance this year!"
The underclassmen ASB class is very interesting this year. But they all agree on one thing: make this year the best with fun and engaging activities for students!