Turlock Transit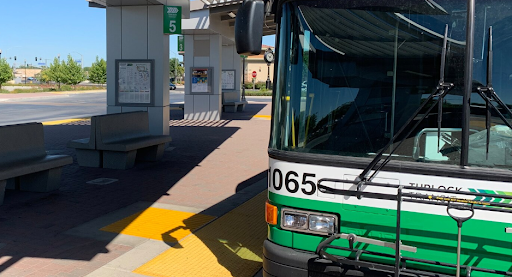 If you've never taken the city bus, you might want to look into it. City buses travel to stops that reach almost all around the city of Turlock every half hour. You can pay two dollars for an all day regular bus pass, however youth (18 and under) and college students can get on for free with school identification on them. 
You can also purchase an all month pass for 30 dollars unless you are a senior over 65, a veteran, or persons with disabilities, you can purchase an all month pass for 15 dollars and your day pass is only one dollar. 
Turlock City Transit has recently updated their bus routes. There are normally 6 routes, each with an assigned color and number. Bus number 4, the Blue Route, has changed to go down Colorado Ave.
A new route, bus number 7, also known as the Brown Route, has been added to go down Fransil Lane. This bus passes Summerfair Park, Walmart, The Dustbowl Brewery, Amazon, and the Turlock Cinema. This route however only has 7 stops, while most routes have about 12 to 17 stops. 
Route one goes down Countryside, W Monte Vista, and Geer Rd. This route has 16 stops and passes Donnelly Park. Route two goes down Geer, Tuolumne, Monte Vista, and Countryside as well and includes 18 stops.
Route three travels to Christofferson, Olive, Mountain View, and Emanuel Medical Center with 21 stops. This route also stops right outside of our school across the street! 
Route four has been changed and now goes down Colorado, Alpha, Cottonwood, Minaret and Cahill with 17 stops, one of which stops at Turlock Jr High which many of us attended. 
Route 5 drives to Central Park, to Linwood, Lander, Golden State and Minerva like many other routes however this route has different stops in 15 places. 
The last route before the new addition of Route 7, travels to Tully, Maine, West and South Ave's, Soderquist, and Canal. This route only has 15 stops which is lower than the average amount of stops on most routes, but only because this route is shorter. 
All of these routes however always come back to transit every half hour so don't worry if you have missed a bus, they always come back! For more information on bus routes, fares, live maps, hours of operation and even Amtrak, you can visit turlocktransit.com.